I've had a lot of fun touring the Harbin Snow Sculpture Festival and the Ice World Festival. Had the internet here been faster, I would upload more photos and write a bit more about my travels in Harbin - some which will have to wait until I'm done my vacation here and have a faster internet connection.
Yesterday, I visted the Harbin Snow Sculpture Festival on the Sun Island which is north of the Songhua river north of Harbin. Now, don't confuse the Harbin Snow Sculpture Festival with the Harbin Ice and Snow World, they're two completely different tourist attractions. One is made of all snow sculptures, and the other is all ice sculptures and ice buildings.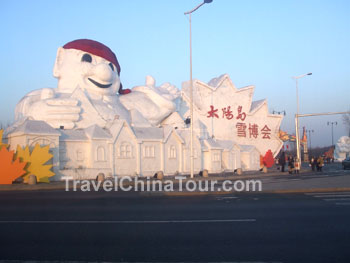 A gigantic snow man sculpture right at the crossroad leading into the Snow Sculpture Festival.
The entrance ticket costs $100 yuan, which I thought was pretty pricey. Upon entering, you first cross a bridge. Like many other tourist attractions in China, there are carts available to drive you around. I didn't bother asking how much it cost, since I decided to tour through the snow sculptures on foot.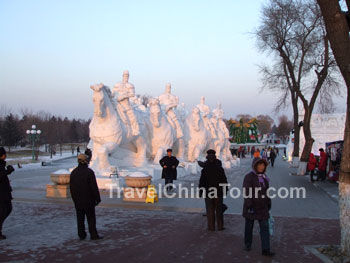 Snow sculptures of russian horsemen.
Harbin Snow Sculpture Festival
The Snow Sculpture Festival is located on the Sun Island Scenic Resort, which is located north Harbin right by the Songhua River (which is actually one of the most polluted rivers in China). The Sun Island was choosen as the spot for the snow sculpture festival, and is rated a 4A tourist destination in China (highest is 5A, I think). The Sun Island covers an area of 38kms, but since most of its attractions are only for summer, the snow sculpture festival is the main attraction in winter.
Inside the festival, there are hundreds of sculptures made of snow - snow sculptures of life sized architecture, people, animals, fairy tale characters, mythical beings, and much more. Here are some snow sculptures that I thought were quite interesting.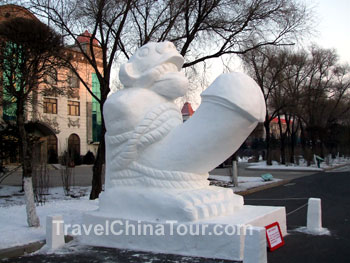 Well, so what do you think this looks like? It's probably what you're thinking. It's a snow sculpture of a tied up person with a giant penis. The description plaque explains that although you can tie up a person everywhere, the sexual desire (symbolized by the penis) cannot be tied up, and as the snow sculpture shows, it's the only part of the body that cannot get bound by the rope.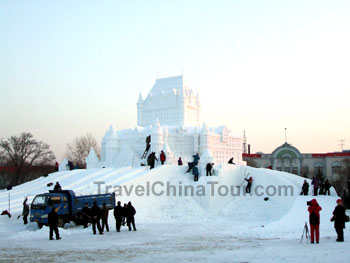 Snow sculpture artists are still busy at work creating a very large snow sculpture of on a hill side that is also made of snow.
There are snow houses where visitors can relax and warm up a little. Inside the snow house is quite warm, and they sell foods and drinks such as hot chocolate, hot milk, tea, coffee, dumplings, noodles, wontons, etc... I headed inside one, and it's actually made of a tent inside, and they just packed on snow on the outside of the tent.
I had a bowl of dumplings, a glass of juice, and some fish balls (which were quite bad). This cost me $50yuan. Something like this could be had for under $5 yuan anywhere else, but at tourist areas, they will charge whatever they want.
After my snack, I was at the largest snow sculpture of the festival. This snow sculpture must have been about 500 meters in length, and 50 meters in height. The snow sculpture is created like a long range of steep cliffs surrounded by ocean water. Along these cliff walls, and at the end of these cliffs are all types of snow sculptures of horses, gods, warriors, deities, and mythology characters. It was truly amazing to see something of this scale carved out of snow. My tour of the Harbin Snow Sculpture Festival took about 1.5 hours.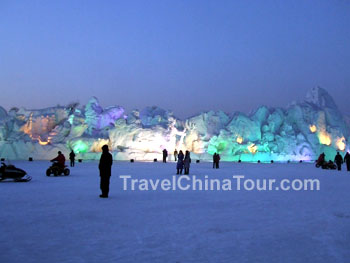 Lights lit up as it was starting to get dark. This was by far the largest snow sculpture of the festival. This photo only shows about 1/3 of the actual length of the entire sculpture.