After grabbing a quick bite at McDonald's accross the street from my hotel, I headed on foot south toward the world famous Bell Tower and Drum Tower. I had booked a hotel at city center for the convenience, and it was only 800 meters to the bell tower, a mere 15 minute walk.
The Xian Bell Tower is located at the center of the huge intersection between Beidajie (north main road) and Dongdajie (east main road), and the Drum tower is located about 200 meters west of the Bell Tower.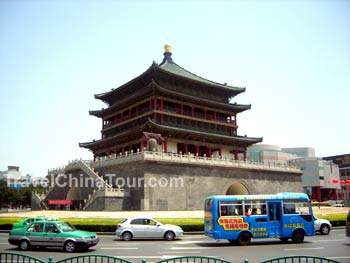 Xian Bell Tower surrounded by heavy traffic.
Being at the center of the major intersection, you can't get to the Bell Tower from the road. All the roads at the intersection are blocked off by fences, and the only way to cross the intersection and also to get to the Bell Tower, you must use the underground passage.
The entry ticket to the Bell Tower costs $20 yuan, but if you purchase a combo ticket for both the Bell Tower and Drum Tower, it costs $30 yuan. From the underground passage, you will head up the stairs going up the Bell Tower. Once at the top, you'll immediately see a large Bell and a ram.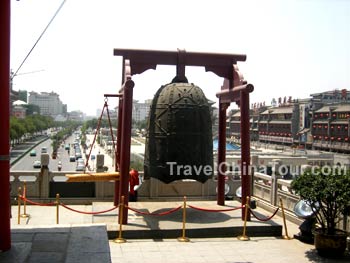 Photo of the famous large Bell used to tell time.
Xian Bell Tower History
The Bell Tower was built in 1384AD during the Ming Dynasty. Long ago inside the tower, a large bell was hung to report time, and that is how it received the name "Bell Tower". The Bell Tower covers an area a little over 1300 square meters, and rises 36 meters tall.
View from the Bell Tower
Located at the center of the major intersection of Beidajie and Dongdajie, you get a 360 degrees panoramic view of the city center within the Xian city walls. Either direction you look, you'll see 8 lane wide roads filled with cars, taxis, and buses, and modern buildings on either side. This is truly a historic building set in the midst of an ocean of modern skyscrapers.
Daily Performances Inside the Bell Tower
Inside the Bell tower, there is a performing stage with various types of bells and other musical instruments on display. There are daily musical performances on stage. I was too early for the 2:30 performance, so instead I watched the Drum Tower performance. I believe the musical performances are different at the Bell Tower and the Drum Tower, where the Bell Tower uses bell types of instruments, and the Drum Tower uses mainly drums. In any case, I was only able to catch the 2:30 performance at the Drum Tower.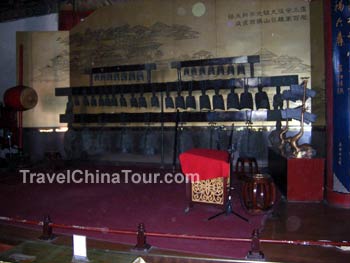 Inside the Bell Tower - the performing stage with all types of bells.
The daily show times are 9:00am, 10:30, and 11:30 in the morning, and 14:30, 16:00, and 17:30 in the afternoon. It was around 2pm when I finished with the Bell Tower tour, and headed to the Drum Tower.