The Stalin park Is a long stretch located along the southern bank of the SongHuaJiang river. There is no entrance and it is simply a public park that the local Harbin people like to take part in leisure activities all year long. I was their during winter time, so all the activities at Stalin Park along the Songhua river was mostly ice and snow related.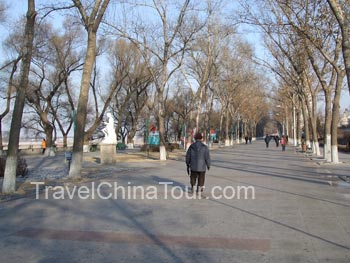 Path along the Stalin Park
The Stalin park was built in 1953, and is named after the Russian dictator Joseph Stalin. The park is characterized by Russian style flowers and a series of statues placed along the park. Being right on the southern banks of the Songhuajiang river, the visitor gets a close up view of the river.
After I took the Gondola ride across and back from the Songhuajiang river, I followed the path walking north in Stalin Park. The two sides of the main path is filled with tall trees, which I imagine would be very relaxing and beautiful during summer time when the leaves are green. During winter, there's no green in sight - other than the benches and lamp poles painted green. :)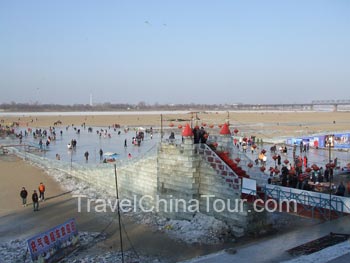 Winter ice and snow activities taking place along the southern banks of Songhua River in Stalin park.
The Stalin Park is mostly a leisure park for the locals to take walks and enjoy some social activity. During my walk through the park, I came across a wide variety of winter sports and acitivites such as skating, bobsledding, and general ice related activities along the southern river banks. After about a 20 minute walk in the cold, I came up to an important monument at the Stalin park - the Harbin Flood Control Monument (Harbin Fang Hong Ji Nian Ta).
Harbin "Flood Prevention Success" Monument
Direct north from the ZhongYang street is the Fanghongbei (flood control statue) which is also located right by the Stalin Park. Built in 1958, the monument commemorates the 1957 flood and the volunteers who helped at the time. The flood control monument is the central attraction of the Stalin park, where tourists and locals alike, all gather to enjoy a nice, sunny day in the park.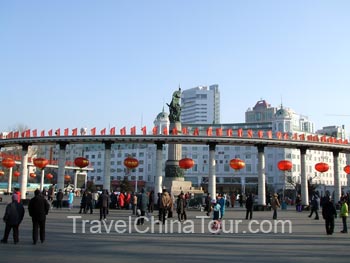 A view of the Flood Control monument at Stalin park.
The monument at the center is 13 meters tall, and consists of a roman style cylinder column with statues of heroes of the flood standing on top of it. A circular ice sculpture was erecteed around the base of the monument, and about another 20 meters out is a series of columns forming a half circle around the central monument. Because I was there close to Chinese new year, there were large red lanturns hanging between every pillar.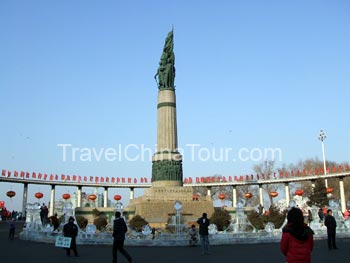 The central monument with a pillar base, and a statue of heroic people standing on top.