Duansipin who was the king of Nanzhao Kingdom established Dali. He wanted to make his country become a prosperous and strong place, so he called the country "li" which means "manners" in Chinese.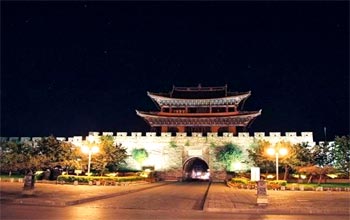 The Entrance of Dali City
The old city Dali is also called Yucheng (Yu City). It locates at the foot of Cangshan Mountain, which is far from Dali City only 13km. Dali is built in 1382 and is one of the historic and cultural cities in China. It closes with Bingchuan and Xiangyun in the east, Midu and Weishan in the south and Eryuan in the north.
Azalea spreads widely in China, especially in Dali, Yunnan Province. Because Azalea is flower of the Dali City, some botanists often called Cangshan of Dali "Natural Azalea Garden". Dali City is the capital of Bai Autonomous Prefecture. So many Bai people live in Dali. They have the second largest population in Yunnan Province. Even in present days, they still keep ancient Bai people customs. So you can learn some cultures and customs here about them. Besides that, you can also taste some special foods and buy a few local handcrafts.
China Dali Weather
The average of temperature in Dali is 15.1 centigrade. In January, the temperature is 8.7 centigrade which is the coldest in the year, while in July, the temperature is 20.1 centigrade which is the hottest in the year. And the best temperature for people is 18.7 to 20.6 centigrade. People often called Dali "Oriental Switzerland".
Yunnan Dali Scenery
Dali has many beautiful types of scenery. Above all, the "wind" of Shangguan County, the "flower" of Xiaguan County, the "snow" of Cangshan Mountain and the "moon" of Erhai Lake are the best sights of Dali. All the four sights have their stories.
Wind: it's said that a white fox loved a boy. So the fox became a beautiful girl to fall in love with the boy. A master in Luoquan Temple of Erhai Lake wanted to break their relationship, so he pushed the boy into Erhai Lake. With the help of Buddha, the girl took the six bottles of winds to save the boy. Due to the master's prevention, she broke five bottles of winds and the winds spread widely especially to the Xiaguan County. From then on, Xiaguan County's wind is always blowing strongly.
Flower: there is an old flower-tree named "Ten Miles Sweet" that was planted by fairy Lvdongbin. The Bai people couldn't bear the local officials pretending to appreciate the flower everyday, while their true purpose was to eat and drink without paying any money. So Bai people cut all the Shangguan flowers. But it's surveyed that these flowers are lotus flower. You can see them everywhere in Dali.
Snow: a long time ago, many people got plague that some gods of plague brought in. In order to save the panicking people, a brother and a sister fought bravely with the gods of plague. At last, they won. And the sister became a god of snow on the top of Cangshan Mountain to suppress the god of plague. From then on, Cangshan Mountain was covered by abundant of snows forever. In fact, the reason is due to the high altitude and low temperature of Cangshan Mountain.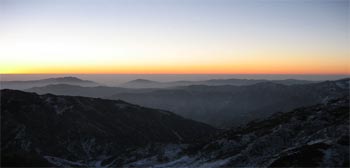 Cangshan Mountain
Moon: every year, in the evening of mid-autumn day, Bai people will take a boat to the middle of Erhai Lake to appreciate the moon. This custom also comes from a legend. A fairy princess admired the people's life, so she married a fisherman near the Erhai Lake. In order to help fishermen prosper, the princess sank her magic mirror into the seabed to reflect all the fish to the fishermen clearly so that fishermen could capture more fish. From then on, the magic mirror became the moon.
Dali Entertainment
Not only Chinese people, but also foreign tourists are attracted by Dali in Yunnan province. They are so absorbed in the ancient customs and the historic culture that they even aspire to live in Dali for a long time. Gradually, there is a road which is full of western tourists inside of Dali City named "Yangren Street (Foreigner Street)".
If you like shopping, Huguo Road is your best choice. This place gathers a variety of crafts and textiles made by local Bai people. Many antique shops will give you some extra surprises. I think these things are worth of seeing and buying as the souvenirs of your visit to here. Apart from that, there is a village named Zhou City around Butterfly Stream. If you have enough time, you can go and visit it. This place is famous for dyed cloths and seals.
As we know, ethnic minorities are always hospitable and good at dancing and singing, so tourists often have many chances to see their performance. If you like, you can join them and dance with them. As for many western tourists, they are accustomed to choose a better place to drink some beers and chat with friends comfortably, and the cafes and bars on Foreign Street is a perfect place to do so.