I left the hotel at 6:30, headed on my way to QuanJuDe Barbeque Peking Duck House. I knew that there are a few QuanJuDe restaurants in Beijing, but was unsure which would be the best choice. So, I asked the hotel staff, and was told that the QuanJuDe Peking Duck House at HePingMen (roughly translated as Peace Gate) is the oldest QuanJuDe Branch in Beijing. I tried calling for a reservation, as they're extremely busy all year round. Unfortunately, they do not make reservations for just one. But considering its not peak travel season in Beijing yet, I figured I'd try my luck.


My hotel is located at the Dongdan district - very close to beijing city center. The taxi ride from the hotel to QuanJuDe Peking Duck House took about 15 minutes, and cost me $20yuan. The QuanJuDe Peking Duck restaurant is situated in a large building – it spans 4 floors, and is very nicely decorated. Upon entering the restaurant, you are greeted by several hostesses. If there's no wait time, you will be directed to your table, but in most cases, you will have to wait – especially during peak season in mid summer when people must book reservations 2 to 3 days ahead of time, from what I was told. Luckily, I'm not travelling during peak season, so there was only a 10 minute wait time.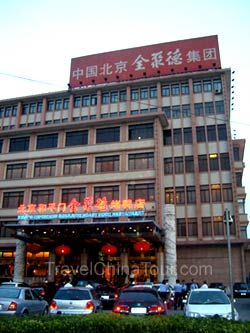 A Photo of the QuanJuDe Peking
Roast Duck Restaurant in Beijing
Inside the QuanJuDe, I got the feeling that this isn't a restaurant that locals frequent very often - although I'm not sure if there's much truth to this. But in the waiting area, I only saw mostly tourists like myself, and people taking photos. I suppose being world famous, the restaurant charges a premium price, and paying $170 yuan for a roasted duck is not something the average Chinese would do every day.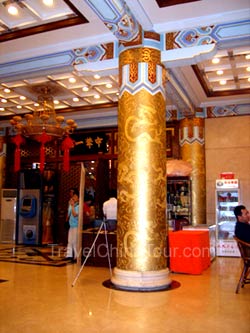 A photo of the waiting area
inside the QuanJuDe Beijing Duck Restaurant
I think a lot of well-to-do people eat here. In the parking lot outside, I saw mostly Mercedez, and BMW's. After the brief wait, I was told that my table is ready on the 2nd floor, so I headed to the 2nd floor dinning room.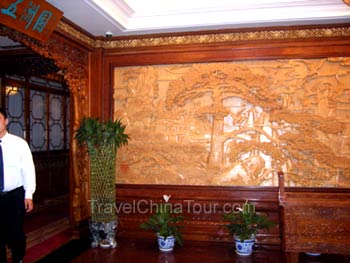 Above is a photo taken just after exiting the elevator, in the waiting area of the 2nd floor dinning area. The entire QuanJuDe restaurant is beautifully decorated. Another hostess greeted me as I entered, and was lead to my table.