It's been awhile since I'm back in Canada from my China Trip this summer. I'm going to take a little time the next few days to make my blog entries for my Guilin trip, which I didn't have time for while I was travelling.


In my last day in Xian, after touring the Tang Paradise, I had dinner at a restaurant across the road from my hotel called Lovbody (Bao Tian Xia 包天下), which is located on BeiDajie. It's in the Carrefour building's 1st floor (Carrefour is one of the largest chain department stores in China).

The Carrefour building where Lovebody restaurant is.
Lovbody features mainly various types of Chinese buns, and some dim sum style foods. When you enter, they hand you a menu that you can mark off items that you want, where most items cost around $2 to $7yuan.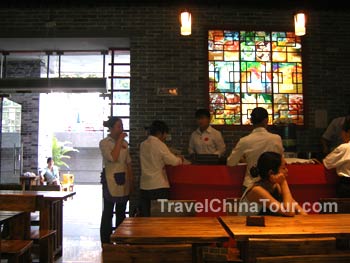 Inside Bao Tian Xia.

The food I ordered.
I ended up ordering 7 items: a congee, broccoli stirfry, 2 types of buns, some salted radish, and some steamed pork dish. The meal cost me a little under $50 yuan.