Most of WangFuJing Street is off limits to cars, and only accessible on foot or by bicycle. The street is kept sparkling clean, and free of trash. You will see stores of every kind at Wangfujing: clothing, jewlery, books, cosmetics, electronics, restaurants, and so much more. But for the bargain hunters, I would recommend shopping at Xidan over Wangfujing. You'll not only find a larger variety of stores at Xidan, they also charge much less! For the discerning tourist, WangFuJing is definitely worth at least several hours of your time.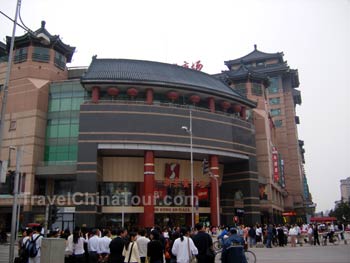 Xing Dong An Plaza at WangFuJing
Speaking of restaurants, look at what I found at Wangfujing - the QuanJuDe Peking Duck House! Of course, if you read my entry on QuanJuDe Peking Duck, you'll know that I went to the HePingMen branch. But I don't imagine there is much difference between these branches.
Gourmet Street Diner at WangFuJing
Walking further down Wangfujing street, i saw a big, bright, red sign that read "Gourmet Street". That sure sounded good! I actually thought it was going to be a side street filled with food stands. :) But it turns out that it's more of a food court type of place. You enter, and go down about 2 flights of stairs, and you'll see a large food court serving all styles of Chinese food. It was around dinner time, so I decided to try out the Gourmet Street.

Gourmet Street at Wangfujing.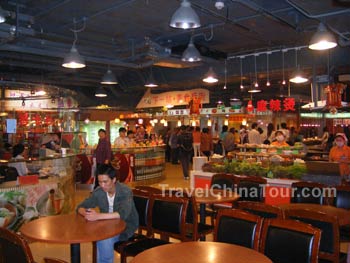 Inside the food court of Gourmet Street.
You will find all types of food inside Gourmet Street including hot pot, noodles, regional style snacks, Chinese fast foods, hong kong style foods, and much more. To purchase food here, you need to first purchase a food card, and add money to it. The minimum amount to add is $30 yuan. Once you have your food card, you can go around to the different food stands, and order whatever you want to eat, and money will be deducted from your food card.
I have to say that I was a little disappointed - from the name "Gourmet Street", I suppose I must've had very high expectations. :) But overrall, it's not too bad.