During my travel to Xian this past summer in mid June, I had dinner at an all you can eat buffet located near Xian city center called Bamboo Buffet (Qian Jia Chu Liang Wang). The restaurant is located on the busy Beidajie. I had just finished touring Xian city wall and it was late in the afternoon. I was hungry, and boy, was I happy to see a buffet!
Bamboo buffet is about a 10 minute walk going north from the southern city gates.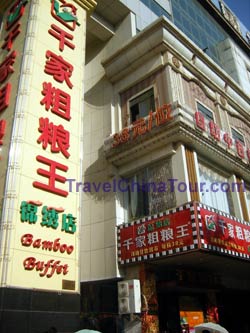 Bamboo Buffet on Beidajie
After entering the front entrance, you're greeted by 2 hostesses, who then direct you toward the staircase going up to the second floor where the restaurant is located. At the entrance of the 2nd floor, you then need to pay for your meal before you get to pig out. The dinner meal costs only $38 yuan (or $5USD), which is pretty inexpensive by north american standards.

So Much Food!
The buffet serves over 200 itesm that include Chinese salads, stir fry, local specialties, dim sum, and even hot pot if you so choose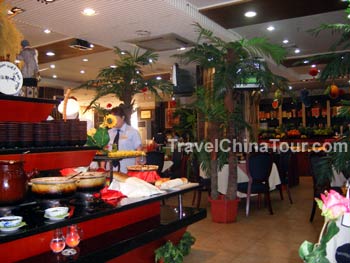 Inside Bamboo Buffet
The restaurant is a nicely decorated, classy place that serves fantastic food. The photo above shows some of the stewed items on the buffet. These include chicken stew, beef stew, and fish. There are a dozen or so variety of salads on one side; half a dozen variety of soups (eggdrop soup, corn soup, mushroom soup etc…), and many cooked dishes.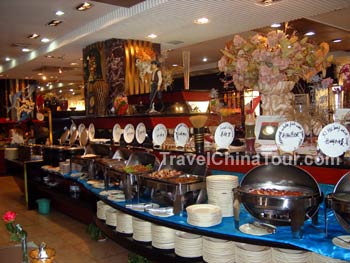 More delicious food.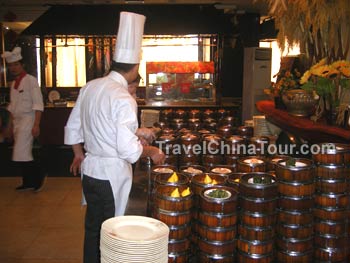 All you can eat Dim Sum!
Above is the all you can eat dim sum section in the restaurant. After I took this photo, the cook you see in the photo, told me I'm not allowed to take photos in the restaurant. Oh well... At least I managed to get a few. Unfortunately, I wasn't able to take a photo of the all you can eat hot pot section in the restaurant (btw, these are all included inthe $38 yuan price tag).
If you want hot pot, just ask the servers. They serve two flavors: ma la (spicy and numbing), or san xuan (three great flavours). They will then bring you a personal sized hot pot - a small pot with hot pot broth and fire under it to heat it. In the hot pot food section, they serve you all the typical items that are found in Chinese hot pot: fish, beef, lamb, chicken, eel, shrimp, all types of mushrooms, green vegies, lotus root, tofu, noodles and much much more. You pick whatever you want, bring it back to your table, cook it in your hot pot and eat it.
And Oh, did I mention there's ALL YOU CAN DRINK BEER!? It's true, they serve you all you can drink beer with the buffet, and it's also included in the $38yuan price. And for desert there's fruits such as watermelon, cantaloupe, honeydew, oranges, kiwi, and much more. There are also all types of Chinese sweets, cakes, and tarts.
It was fantastic!