It was lunch time when we were shoping at the Haikou Ming Zhu Guang Cang, and side by side, there was a Pizza hut and a KFC. We decided to try Pizza Hut for the first time in China.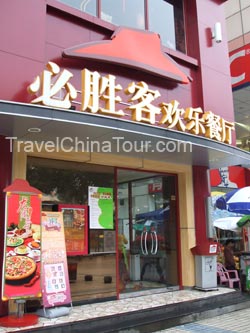 Entrance to Pizza Hut.
Instead of "Pizza Hut" under the red hat, it says "Bi Sheng Ke" in Chinese, or can be translated as "win for sure guest".
Inside the restaurant, the surroundings are nice and clean. Unlike many local Chinese restaurants, the interior is well kept, and maintained, and clean. I suppose the prices are also much higher. Basically, the prices in RMB for the food items cost about as much as north American prices for pizzas. Although similar food is served, the food menu is different. They had appetizers like onion rings, chicken skewers, and calamari. For the main course they served mainly pastas and pizzas.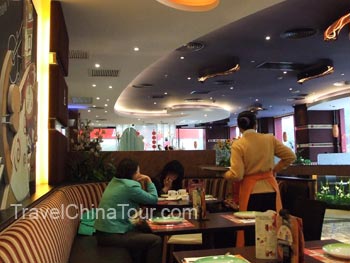 Compared to Pizza Huts in Canada, this one in Haikou seemed a bit more upscale, and had fancier settings.
We ordered a 9" Hawaiian for $55yuan, a raspberry blueberry smoothie for $18yuan, a Miranda orange pop for $5 yuan, a spicy chicken skewer appetizer for $20 yuan, and a peach crepe for $18 yuan.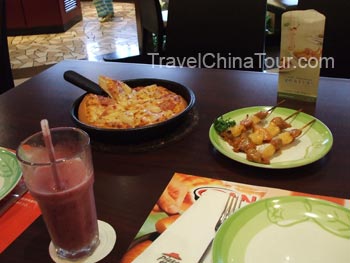 I have to say that the food quality and taste is just like what we get in north America, so there isn't any quality or taste differences. But the pizza dough was a bit thicker, and the crepe didn't really taste like crepe. The chicken skewers also had a much more distinct "Chinese" flavor to it as well. Other than that, there isn't much difference between a North American Pizza Hut and one in China.