It has been many years since the Chinese government has banned public use of fireworks until Chinese new year in 2006. There was plenty of fireworks going on last Chinese New Year, but I think this year, it will be much more exciting than last year. Literally everywhere on the street, are small vendors selling all types of fireworks, and people are buying them like hotcakes.
I, of course, am no different. I went on a shopping spree for fireworks with my Younger cousin.
Buying Chinese New Year Fireworks
Instead of buying from the small vendors spread throughout the city, we headed to the wholesale district of Neijiang. I was prepared to buy alot of fireworks. Last year, I spend around $700yuan on fireworks. After a good hour or two browsing and choosing from the large variety of fireworks, we came out with almost $900yuan ($120USD) worth of fireworks - we got a discount as well, since we bought so much. We probably bought about a 100lb worth of fireworks.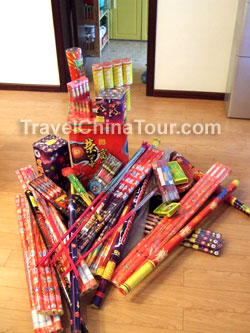 Our fireworks laid out for Chinese New Year celebration. Only part of the fireworks is shown here, more was not included in the photo.
The largest one we bought was a 30 explosion firework, that cost $160yuan - it's the largest, square box at the back. Beside (and on top of) the giant firework, there are also several smaller ones that comes in thinner tubes of 15, 9 and 4 explosion fireworks and fountains. We also bought 2 rounds of 3,000 fire cracker chains - one for Chinese new year's eve right when it hits 12:00am, and another for new year's day.
The long round tubes you see, are handheld fireworks, that shoot out small fireworks that make a small explosion in mid air. Although the warning says "do not hold with hands", it doesn't seem like anyone ever reads the warnings. I also bought a bunch of smaller fireworks like rockets that shoot into the sky, little fireworks made like a bee that spins and flies upwards, and several types of sparklers.
Last night, we already started shooting off fireworks right on our balcony, and some by the river. Already, these past few nights are filled with fireworks and firecrackers. I can only imagine what it will be like on new year's even when the entire city (and all of China) starts to shoot fireworks. It's been many years since fireworks was allowed (until last year), so you can expect people to spend a little extra this year to make up for all the previous years!