The name "Hao Da Ma Mei Shi Guang Chang" is translated (directly) as, "Good Big Mom Gourmet Food Street". This restaurant is located on the top floor of the Ba Gui Da Sha building on Zhong San road in Guilin, and it's a popular restaurant where the local residents frequent.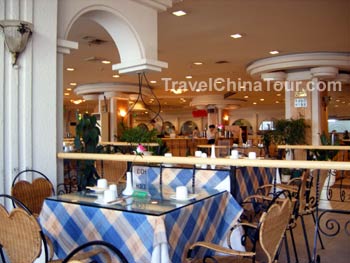 Hao Da Ma food street restaurant.
Hao Da Ma is a huge restaurant that probably can seat over 1,000 people (that's my guess), and it has a very nice and relaxing environment. It is on the 4th floor of the Ba Gui Da Sha building, where the lower 3 floors are all clothing shops. So when shoppers get hungry, they can get to the 4th floor for a good meal.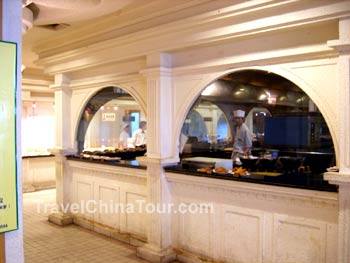 Cooks inside the food stands preparing food that customers ordered.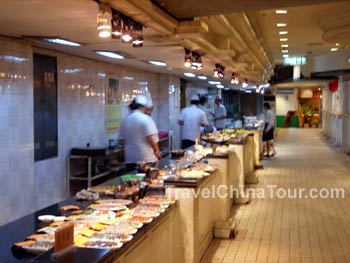 More food for ordering! The entire restaunt is filled with these types of stands offering a wide variety of Chines food.
Hao Da Ma restaurant serves a wide range of Chinese cuisine, and you will get a good taste of all types of local authentic food. The food items cost vary from $1 yuan up to about $30 yuan, and I'm guess there must be at least over 200 items to choose from. Just making a round trip along all the food stands will take a little time.
Since this was my first time at this restaurant, I wasn't sure how the ordering process went, so the waitress helped me out, and here's how it went. Once you're seated at a table, the servers will hand you a sheet of paper, where you get a stamp for each item you order. You then walk to the food stands, check out the massive variety of foods they have to offer, and if you see something you like, you tell the cook, he will mark it on the paper for you. When it's cooked, they bring it to your table.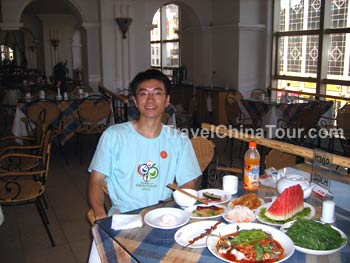 Here's me enjoying the 8 dishes I ordered. Very tanned from all the sun.
I ordered 8 dishes in total, some are quite large, some small. I ordered some large dishes like a stewed fish head, stir fried vegetable of some sort, and another mid sized dish of cold mixed noodles. Then there were some very small dishes, like 1 skewer of lamb barbque, a small plate of 2 duck feet, a loal style preserved daikon radish. For desert, I had a plate of water melon, and a sweet rice bun of some sort. If you're wondering if I ate all that, I did. The only thing left was those cold mixed noodles, which I didn't really like.
My diner of 8 items cost me only $59 yuan, or about $7USD. The servers were very friendly, and they had a good laugh seeing all the food I had ordered. If you ever visit Guilin, I would highly recommend trying the Hao Da Ma Mei Shi Guang Chang restaurant.