Not knowing where's a good place to shop, my wife and I asked a taxi driver which major shopping centers are popular in Haikou, and he told us a place called Ming Zhu Guang Cang (People's Cultural Plaza - that's my translation of it.) is a popular place where local people like to frequent.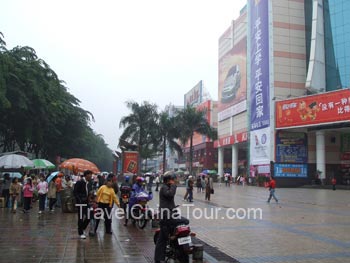 Haikou Ming Zhu Guang Cang is one of the largest shopping centers in Haikou. There are several major shopping areas, with hundreds of small shops and large department stores. You'll also find outside on the streets, various snack stands selling BBQ, corn, local food; fruit stands selling a wide variety of tropical fruits including at least 5 or 6 diffent types of mangoes; and you'll also find a wide variety of western restaurants and local Haikou restaurants.
It was a rainny day when we went out that day. We ventured inside one of the major shopping centers at the Haikout Cultural Plaza, and it was huge inside. There was about 6 or 7 levels, and each level is filled with individual shops selling everything from electronics, to clothing, to toys, and much more. Each level is somewhat organized into a category of products - for example, electronics would be on one floor, toys and kids stuff on another floor, clothing would be on a different floor.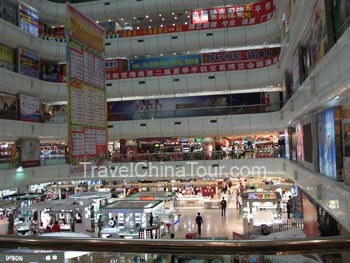 And on each floor there are competing merchants renting a small space selling their products. .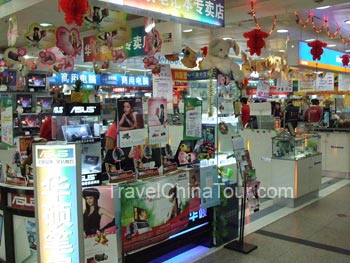 We're on the electronics lelvel here. You could find all types of electronics from MP3s to laptops to LCDs and more.
After taking some day to browse through then entire shopping center, we left through a side exit. And on the steps of the side exit, there was a street vendor selling beach clothing, and in need of some swimwear and beach clothing, we picked up a few beach shirts, shorts, and swimming trunks.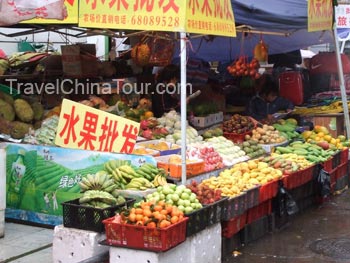 About a block down the street is a side street lined up with fruit vendors selling a wide variety of tropical fruits. Mango is one of the main fruits of Haikou, and you'll find many different types of mangoes. Other fruits you'll fine include mangosteens, dragon fruits, longans, pomelos, and various other fruits that I don't know the names to.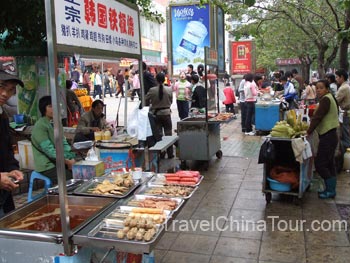 On the main street, there's are many snack stands selling all types of snacks.