There's a dumpling restaurant called "Lao Shang Hao Jiao Zi Wang" that is located at ZhongYang Street #90, which is only a 5 minute walk heading south from Tianzhi hotel, where I stayed.
On the way there, there was a traffic accident on the side road crossing ZhongYang Street. It blocked the entire road intersecting ZhongYang street. A taxi hit a van, and they blocked half of the road. The funny thing is, being impatient Chinese drivers, cars behind them tried to go around, and got blocked by a oncoming bus from the opposite direction, which was trying to do the same. Eventually, more cars from behind are trying to squeeze through every possible knick and cranny possible, making the traffic congestion even worse. At the same time, 20 some cars are honking simultaneously – you can imagine what it was like. I could only laugh out loud at the situation.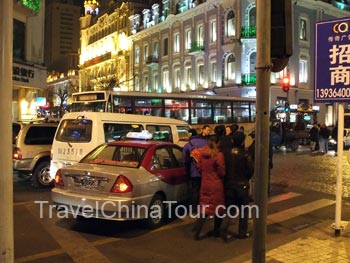 The bus in the background, while trying to get around the car accident, ended up blocking the entire intersection. The congestion got worse, as cars from behind tried to squeeze through.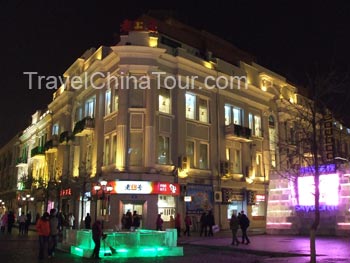 The Lao Shang Hao Dumpling King restaurant.
After hanging around the chaotic accident location for about 10 minutes and taking some photos, I headed on my way to Lao Shang Hao Dumpling King restaurant. Lao Shang Hao Jiao Zi Wang (Dumpling King) is located on the 2nd and 3rd floors. After being greeted, I was directed to the 3rd floor dinning area. The waiter gave me an order sheet, and a pen. The order sheet is separated into 7 sections:
Sa guo dishes (Iron pot)
Northern style cold mix dishes
Northern style preserved meat items
Deep fried and stir fried dishes.
Northern style staple flour and dough items
Dumplings
Drinks and alcohol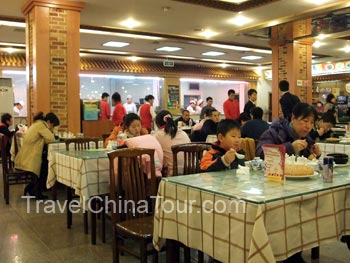 Inside the restaurant.
The items cost from $1.00yuan up to $28yuan (not including alcohol prices). But most items cost average about $4 to $5 yuan only. Although I was by myself, I still ended up ordering 6 dishes, since I wanted to taste a variety of local items and flavors.
- Mushroom soup lion head (huge meat ball) – the soup was very good, but the meat ball was just okay.
- Ma Jian Zhi La pi – some kind of clear sheet probably a product of rice. It had a brown sauce on top (seemed like a peanut sauce), and also had some ground pork. I didn't really like it.
- 3 Meat platter – 3 types of Chinese Northern style meats – 2 types of sausages, and a ham type of meat. Nothing too special about it.
- Huang Jing da Bing (Golden Bread) – a large round bread with sesame seed baked on top, the color was golden. It tasted really good. This was my favorite item.
- Deep fried dumplings – it was quite good. As well, it is a staple food of northern Chinese people.
- 3 Xian Sui Jiao – 3 delicacies dumpling. All I could really taste was the small dried shrimp taste in the dumpling. Can't tell what else there was.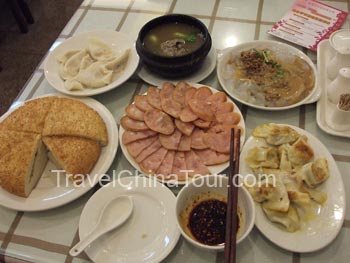 The six items I ordered.
Entire meal cost $45yuan (under $6USD). This was enough to feed at least 4 people, so of course I couldn't finish it. I was getting funny looks from the employees ordering so much food. Flour based food is a staple for northern Chinese people. Unlike the southern regions where rice is the main staple food, people in the northern region eat flour based products as their staple food. Food items such as bread, pancakes, noodles, and dumplings are more commonly consumed than rice.