ZhongYang street is located at the heart of Harbin and it is one of the most popular shopping and relaxing destinations for locals and foreigners alike. I had booked my stay at the Tianzhi Hotel, a 4 star hotel located right on ZhongYang Street. ZhongYang Street is a foot traffic only street where you will find various shops, bars, restaurants, russian souveir shops, and major shopping centers. One of the main attraction for tourists are the european style buildings built along ZhongYang Street.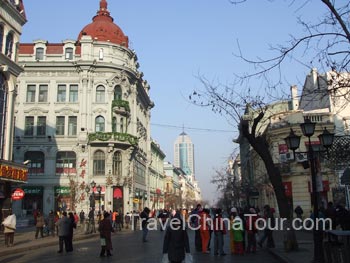 Day time photo of ZhongYang Street.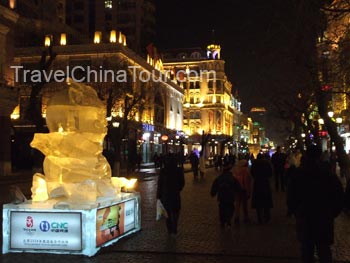 Night time Photo of Zhongyang street. The brightly lit building in the back is the Tianzhi Hotel where I stayed for my trip.
The two main shopping centers located on Zhongyang street are the ZhongYang Mall, and the Euro Plaza. Both shopping centers are similar to western style shopping malls and department stores where you'll see familiar brand names mixed in with Chinese brand names. These shopping centers are 5 levels tall. Inside the Zhongyang street shopping center, the bottom floor is taken up by cosmetics and jewelry counters, and the upper floors are mostly clothing shops.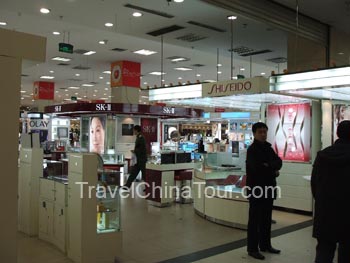 Main floor of the Zhongyang Shopping Center.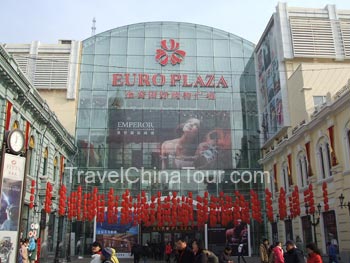 The Euro Plaza.
Underground Shopping Centers in Harbin
While the shops on ZhongYang Street and shopping centers like Zhongyang Mall and Euro Plaza more modern and westernized, the locals prefer to shop at one of the many underground shopping centers located throughout Harbin. Fortunately for me, there was an underground shopping center, just a few blocks away from ZhongYang Street. Zhongyang Street is similar to Wangfujing of Beijing (to a lesser degree), where tourists generally gather, and the prices you pay here are generally much higher.
The underground shopping centers are located below ground level, and these shopping centers generally span several city blocks, and are easily accessible by stair passages conveniently located by street sides, and at street intersections. I actually would've never found the one by ZhongYang street, had I not thought that it was an underground passage to cross a major intersection!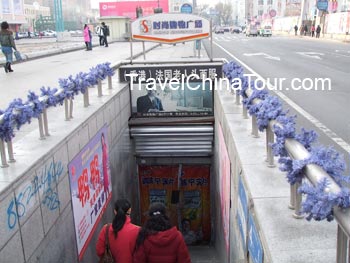 One of the many street side stairs leading to the underground shopping center.
When I got down to the underground center, there was a large food court, and it was packed with people. Most of the food stands here were selling northern China foods made mainly of flour products such as noodles and dumplings. The prices were very cheap as well. Most items cost $3 to $5 yuan, and I had a bowl of beef noodle for $4 yuan.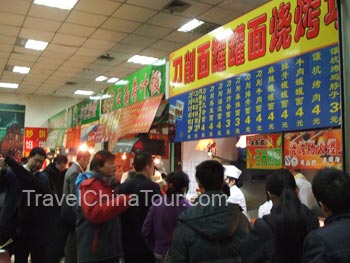 The food court in the underground shopping center.
These underground shopping centers are very popular, and are where the locals like to shop the most. Their prices are quite inexpensive, and you don't have to walk out in the cold. I believe these underground shopping centers are popular in Harbin is partly due to the harsh winters. The cold is easily kept out being below ground level, and the shops can keep their doors open all day long, unlike above ground street shops.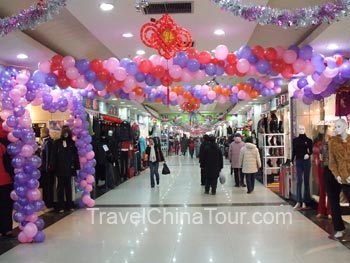 Shops in the underground shopping center.