Okay, maybe not all of Xian, but selective section of BeiDaJie near Xian city center are catered to the extremely rich and wealthy. Don't let the title turn you off from shopping in Xian, there are many, many "regular" shopping centers in Xian. I just thought this would be an interesting topic to blog about instead.
In China's society today, there is great disparity between the wealthy and the poor. The rich are extremely rich and the poor can get just by. Where the national monthly average earnings stands at about $1000 yuan, seeing tiny wallets sell for $3,000 yuan, and larger hand bags sell for over $10,000 yuan, makes you think doesn't it?
Granted, these exclusive stores only cater to the wealthy, I still find it surprising how the average Chinese can affords some of these things. And it's especially mind boggling to see "beggars" on the streets talking on a spanking new cell phone while panhandling! (I'm not exaggerating.)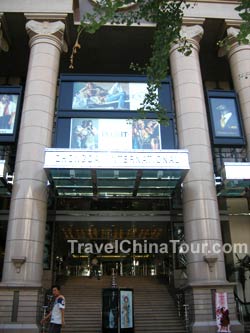 Zhongda International Shopping Center
Xian Zhongda International Shopping Center
Beidajie and Nandajie are major commercial streets that run north to south inside the Xian city walls at city center. There are hundreds of stores, shopping centers, restaurants, and office building in this district. I came upon a classy looking shopping mall called Zhongda International, and looking closer, all I saw was expensive name brands such as Prada, Versace, Louise Vuiton, and more.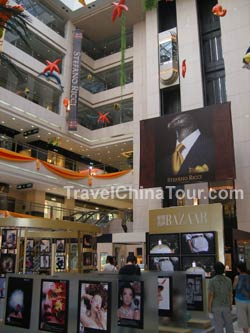 Inside Zhongda International Shopping Center
The mall was kind of empty inside, which is somewhat expected, since it's a shopping center for the extremely rich. I dropped by Louis Vuitton to browse around, and everything inside cost at least several thousand yuan, with most items costing over $10,000 yuan. Some of the cheaper things I saw was a simple, basic wallet that cost $2,950 yuan.