I got into a taxi cab, and asked the driver where are the good restaurants around Guilin city. He told me that there is a street in Guilin called "Nan Huan Lu" or "Nan Huan street" that is a very popular street where the local Guilin residents frequent. So, of course, I told him to take me there for lunch.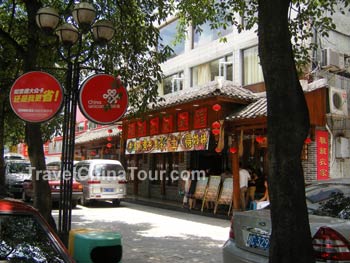 Row of restaurants on NanHuan street in Guilin.
Guilin is a pretty small city, and I arrived at Nan Huan street in under 10 minutes. There are all types of restaurants serving all styles of Chinese cuisine on Nanhuan Lu such as Szechuan food, cantonese food, hot pot, and much more. I came up to a restaurant that's named as a farmer food type of restaurant. They had a large banner at the front that said in Chinese (roughly translated as): "farmers cook farmer food, it's so old style it tastes great".
Well, the banner sounded interesting enough, so I decided to try this restaurant. Because it was hot outside, the air conditioning was blasting when I sat down. On the tables I noticed that the bowls, plates, saucers, and chop sticks were all shrink wrapped. The waitress told me this was for sanitary reasons, and that the restaurant charges $1.00 yuan per setting used.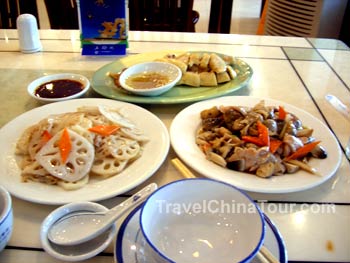 I ordered 3 dishes for lunch.
For lunch, I ordered 3 items: a cold chicken dish, lotus roots, and a mixed wild mushroom dish. The chicken was cooked in traditional Guilin style, steamed and then served with two types of sauces. The lotus root was lightly stir-fried, and light tasting, and the mushroom dish had several kinda of mushrooms that I dont know the names to. Overall, the lunch was tasty, and light tasting, and it's reasonably priced. The meal cost me a little under $60 yuan.
Guilin Diner at Xiao Jing San
It was already diner time when I finished my tour of the JingJiang Princes City and the Solitary Beauty Peak. I decided to just take a walk along the streets and find a place to eat, although I wasn't quite sure where I was. I came up to a small restaurant about 3 blocks away from the JingJiang Princes City. The restaurant was called "Xiao Jing San Fan Dian", or Little Gold Mountain Restaurant.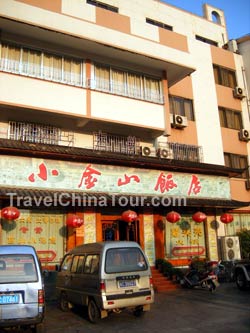 Xiao Jing San Restaurant.
After I sat down, I ordered 3 dishes: a steamed chicken, a stir-fry green veggie, and a tofu dish.