Xidan shopping district is probably the most popular shopping district in Beijing - it's where the local Beijing people go shopping for the real deals and bargains. Every time I'm in Beijing, I always make a trip to Xidan and well... shop shop shop! :D Sure WangFuJing is probably much more famous internationally, but if you want to experience real Chinese style shopping districts, Xidan is where IT's at!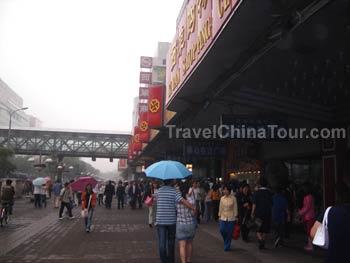 Photo taken just outside of Xidan Shopping Center.
What's so different about Xidan compared to WangFuJing you ask? For starters, the prices of products at Xidan are real prices that locals pay unlike the inflated prices tourists pay at WangFuJing. And if you're a bargain hunter, you can drive a HARD bargain at almost any store in Xidan, something not so common at WangFuJing. On the flip side, because WangFuJing is world famous and a popular tourist destination, its much more organized, and maintained. But to me, I think to truely experiene the Chinese shopping experience, you must visit Xidan.
You will find stores of every kind at Xidan: jewlery stores, clothing shops, shoe stores, electronics, books, tiny ma and pa shops, large department stores, you name it. A must visit place at Xidan is the "Xidan Shopping Center" building. It's the "heart" of the shopping district (at least I figured it is). You can't quite read it in the photo above, but the red sign with large yellow text says "Xidan Shopping Center" in both Chinese and English letters - so you won't have a hard time finding it.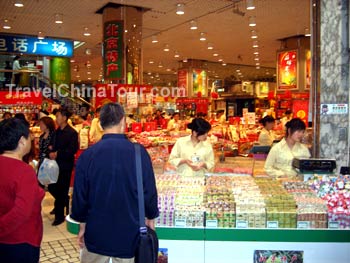 First floor at Xidan Shopping Center.
At the first floor is a large food market where you can buy all types of Chinese delicacies such as beef jerky, candies, sweets, and all types of snack foods. From the second floor and up, are all types of shopping stores with each category conveniently located on one floor. For example, they have a electronics floor where you'll find electronic products of all kinds. There is also an accessories floor, where you will find things like belts, ear rings, lighters, hair ties, and all types of accessories you might need. There are about 3 or 4 floors just for clothing shops, and on the very top floor, is the food court.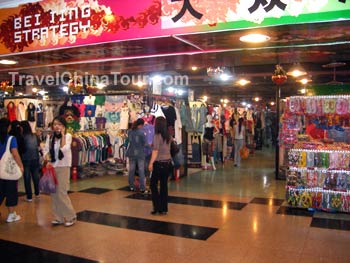 Hundreds of small shopping in the upper floors.
Driving A Hard Bargain Shopping at Xidan in Beijing
In the upper floors of Xidan Shopping Center in Beijing, are hundreds, if not thousands of tiny shops that sell every kind of clothing imaginable. Most of these little mom and pop shops get their stock from wholesalers, which strangely enough is also easily accessible to the public! You can read a bit more about this type of shopping in China in this Shopping in Chengdu guide (Scroll down to He Hua Chi wholesale district section).
What's even more fascinating, is that for every type of clothing, be it jeans, jackets, formal wear, under clothing, (or whatever you can imagine), there's at least a dozen or two of the same stores selling same or very similar products. Every shop you walk buy, the shop owner will try to invite you in to browse through their products. I've always wondered how difficult it is for these small shops to stay in business, but since they're there for business, they must be able to make money. :)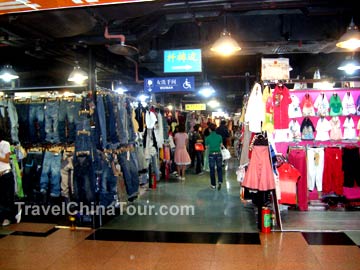 More clothing stores inside Xidan Shopping Center.
Probably the most fun part of it all, is finding fantastic items at bargain basement prices! The one thing you should keep in mind when shopping at these types of stores in China is that "There is no set price." Keep this golden rule in mind, and you can drive a real hard bargain. I have to admit that I'm not much of a bargain person myself, but my wife loves it, and it did rub off on me somewhat.
Many of the items on display doesn't have price tags, and the shop owner (or employee) could give two completely different prices for the same product depending on the person. If they feel they can squeeze a little more out of you, they will. It's not far feteched to counter offer 50% of the first price they give you, and there are many times where I've paid just 1/2 of the originally quoted price! And always be prepared to walk away from the deal, because you know what? There's another half a dozen stores right beside it selling pretty much the same stuff! :)
So anyways, if you're ever in Beijing, check out Xidan, enjoy the shopping there, and bargain, bargain, bargain.