Continued from our Chinese new year's eve (feb 17th). After spending several hours at Dazhou Square, we all headed back home. It was almost dinner time again. More food is prepared and consumed during Chinese New Year celebration than any other time of the year. Large amounts of traditional Chinese food is prepared for large family meals - of course, the taste will differ greatly depending on the region and province. For us, in Szechuan, the food prepared are typical spicy Sichuan dishes.


Other common foods that almost every family will serve for Chinese New Year celebration includes fish (鱼) pronounced as "Yu", which is a similar sounding word with another Chinese word (余 as in 年年有余, "Nian nian you yu") also pronounced "Yu" meaning each year having abundance of, or having lots of something. Noodles are also a common food item for Chinese new year celebration which represents long life. Other common foods served at Chinese New Year meals include chicken, duck, rabbit, dumplings, Nian Gao, steamed glutinous rice, and zong zi, along with various vegetables.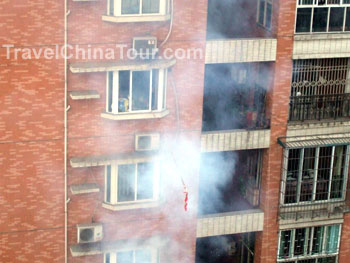 People from the building across from us are setting off a long firecracker chain, which is a Chinese tradition that most families will take part in. It may seem strange and dangerous to dangle a long chain of fire crackers outside of your window, but after spending last years new year here, I got used to it. Although this is a common practice is China, it's probably unheard of in North America.
Nian gao and steamed glutinous rice are two traditional Chinese New Year item that's probably served in all regions of China regardless of the food and taste differences. Nian gao (年糕) can be directly translated as "Year pastry", which doesn't make much sense. ;) But it is a same sounding word with (年年高 Nian nian gao), basically meaning "higher" (or better) each year. Steamed glutinous rice is also served at most (if not all) Chinese family meals.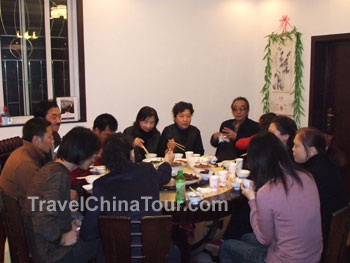 Our family is gathered around for dinner, which included Chinese New Year food such as fish, steamed glutinous rice, chicken, and duck.
Diner lasted to about 8pm, at which time, the annual Chinese New Year celebration party (I believe it's state organized) begins broadcasting on most Channels (from our reception, I counted a little over 1/3 of the channels were broadcasting this once a year major event).