I am attending one of my oldest friend's wedding in Chonqing, which is about a two and half hour bus ride from Neijiang. Originally, I was planning on going there in the morning on the 2nd, and head back on the 3rd. Because of Chinese culture, I wasn't able to be his best man for his wedding, which would have been a huge disappointment for both of us. But it was a last minute decision that they would have a western style wedding instead, which allowed me to be his bestman.
Traditional Chinese Wedding Culture
In Chinese tradition, married people cannot be best man or brides maid – at least it is like this for Szechwan province, and I would imagine other places in China has similar customs. Since I'm married, I would not be able to be the bestman. But since the wedding ceremony is now semi-western style, I was able to become his bestman.
Because of this, I headed to Chongqing today with my wife. After having lunch with my family, we headed to the bus depot around 2pm. We arrived in Chongqing around 5pm, and wow was I stunned with the incredible number of high-rises and skyscrapers in Chongqing.
We checked in at the California Inn located just 5 a minute walk from where the bride's family lived. We had dinner with Tim's (the groom) family around 6:30pm, after which time the 3 best men headed to the Chongqing Carlton Hotel for rehearsals.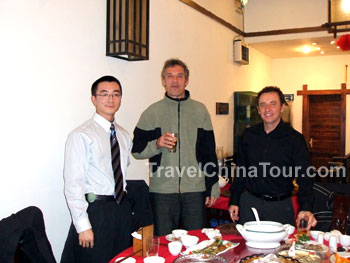 Me on the left, Uli center, Joel right.
The Western / Chinese Wedding Rehearsal
The wedding was still very much a Chinese style wedding, with only the ceremony part being western style. When we arrived at the hotel, the entire banquet room was under heavy pressure to finish up last minute preparations - Candles and roses were being put in place, light fixtures were being installed, a raised marching platform was still being built, and the groom, the bride, the parents, the bridesmaids, and the hotel employees were buzzing around like busy bees. Everything was in an organized Chaos.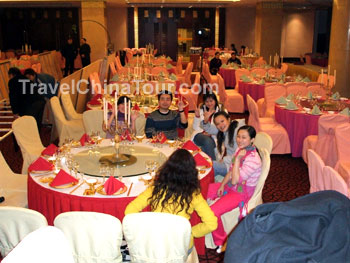 The bridesmaids are taking a rest.
Since it was a last minute decision to make the wedding ceremony westernized, non of the usual speeches and wedding vows were prepared. There were 3 best men: one was his co-worker from UBC (Joel, a French guy), another was the bride's younger brother, and I was the third best man. For a minister (since there isn't one), Tim had his boss (Uli) from UBC handle the responsibility of marrying him and his bride-to-be. Unorthodox indeed.
So, the three English speaking guys (me, Uli, and Joel) were working on writing the wedding speeches, and since this is totally a last minute deal, we even had to come up with the wedding vows. By about 12am, some four hours later, the banquet room was almost finished, the marching platform was erected, but very shaky, and we had a nice little speech and wedding vow done for Tim. Everything was nearing completion. Only thing left was to rehearse.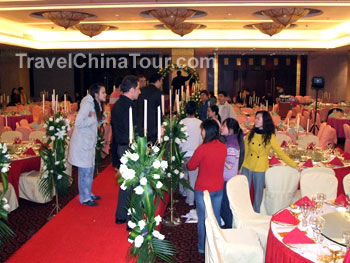 Getting ready for the last (2nd) rehearsal.
We spent about 15 minutes and did one rehearsal, and it went well. Everyone was dead tired by that time, I was still totally jet lagged, and we headed back to our hotel for some shuteye. Need to be up bright and early the next morning for the big day.