Across from my hotel on the west side of the Zhong San road, there is a large shopping plaza called Ba Gui Da Sha. The first few floors are full with small clothing shops. The top floor of this building is one of Guilin's very popular restaurants called "Hao Da Ma Mei Shi Guang Chang".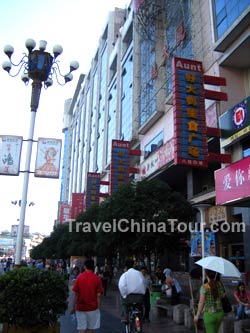 The Ba Gui Da Sha building. The blue and red signs on the building side with "Aunt" on it says "Hao Da Ma Mei Shi Guang Chang" (a popular Guilin restaurant).
This shopping mall is very similar to the Xidan shopping center in Beijing, but it's not as big. Again, if you love bargain shopping, these are the kinds of places to go in China. Inside the mall are long hall ways with small shops spread out along the two sides. These shops sell everything including clothing accessories, jewelry, hair accessories, clothing, luggage, hand bags, books, Chinese items, electronics, and much more.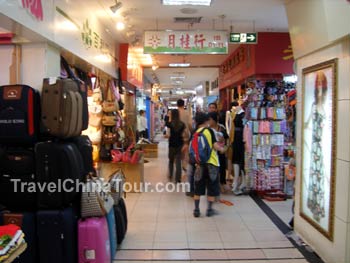 Inside the shopping mall.
Remember, you can bargain at all these small shops! Alot of the pricing they tell you is completely made up on the spot. Don't be surprised that you ask the owner for one price, go back later, and he gives you a different price for the exact same item. Since I didn't have much space left in my suit case, I only bought a few t-shirts and some shorts.