Around 12:30 lunch was being served. It was the fresh seafood that was caught in the Li River. I'm not too sure what the complimentary lunch box includes, but my guess is some rice with some stir fried item. For the $288 yuan we paid for our meal, we got to taste the fresh catches from the Li River. Our meal came with 2 steamed fish caught from the Li River, deep fried tiny crabs from the Li River, shrimp, steamed tofu with pork, a soup, and some stir fried vegetables.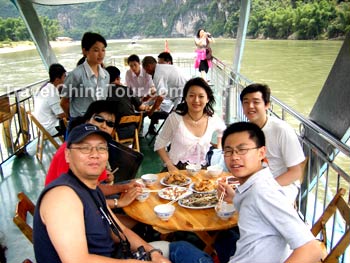 Lunch on the upper deck with my new friends.
In total, there were 3 tables set up on the upper deck - one in the photo behind our table, and another to the left not shown in the photo. Although the food wasn't exceptionally spectacular, but it was still good, and dinning on fresh catches out of the Li River was a big plus.
Li Jiang River Nine Horse Cliff
After lunch it was smooth sailing down the Li River. Pretty soon, we came up to a famous landmark on the Lijiang River - the Nine Horse Cliff.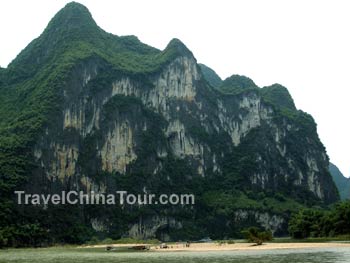 9 horse cliff on the Lijiang River.
Supposedly, if you look long and close enough, you can see 9 horse shapes on the side of the mountain. The saying goes that if you can see all 9 horses on the mountain side, then you are destined for greatness. Of course, that is just a saying.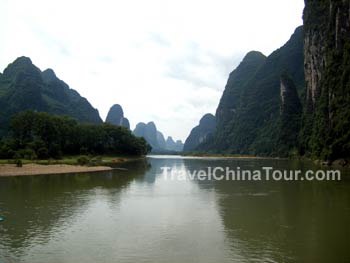 More scenery from the Li River cruise.
The Li Jiang Li River cruise was an enjoyable and entertaining experience with amazing scenery throughout then entire trip. While the Li River scenery looks great in photos, but the true beauty of it all must be experienced first hand.