Time sure flies when you're having fun. In a few days I'll be flying back to Vancouver, and I still haven't even got to making blog entries about my trip to Guilin yet, and there was a lot of interesting stuff I saw there! Guess it's something I'll have to find time to do when I'm back in Canada.
These past few days have been somewhat hectic sine I got back from my lil trip around China. My mom's been renovating here 2br condo in Neijiang, and wow it is such a pain to find contractors in China. You always have to keep an eye on them to make sure they're doing a good job.
Buying a Condo in China
Housing is quite different in China compared to America. In america, most residential (except high rises) use wood frame with dry wall, but in China pretty much every building is made using concrete, and unlike north america, all the new units you buy in China come in a frame only style, with absolutely no interior work.
It was quite interesting to hear about it from my uncles who's been through all this. Apparently, some 5 - 10years ago in the 90's, new units did come with a completed interior; however, most of the new buyers didn't like the design, or it didn't match their taste, so they tore things apart and re-did the interior design themselves. After numerous cases like these, the Chinese real estate developers just decided to sell new units in a "frame-only" condition, with no interior work.
So, pretty much, all you get is a concrete framed box, with some walls, and a front door on it, and it's totally up to you how you want to finish the interiors.
My mom's place is a slightly different story. She had purchased a second hand condo, in one of the best locations in Neijiang. (real estate in Neijiang is relatively inexpensive). It faces the Dazhou plaza and the Tuo river. But like most home buyers in China, the existing interior design didn't fit her likings, so she decided to take it all apart and redo it all. And since I was in China during this time, I could give her a hand.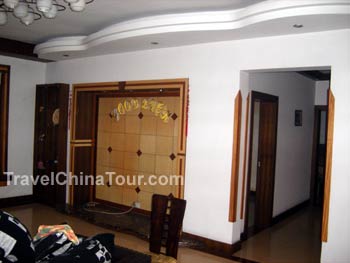 Before photo: the original interior look.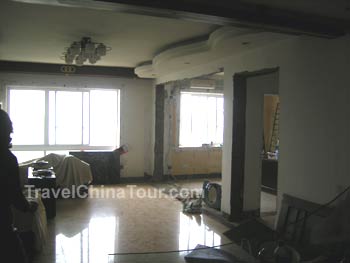 Midway photo: when things were torn down.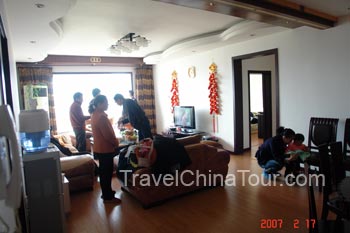 The finished look after all renovations are completed.