The restaurant is located on the 2nd floor of the hotel. It serves various seafood dishes, and mainly specializes in Cantonese style dishes.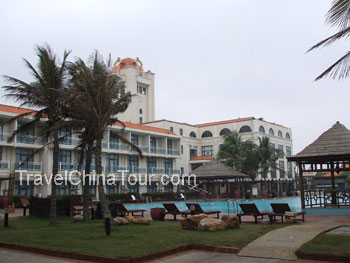 It wasn't busy when we got back to the hotel for dinner - there was only 1 other table in the entire restaurant. Because of this, we didn't expect the food to have exceptional quality... However, we were nicely surprised by the quality of the food they served.
We ordered 8 items from the menu: stir-fried beef rice noodle, sweet and sour ribs, jelly fish salad, crispy skin pigeon, mango shrimp, a winter melon dish, a vegetable dish, and a squid hot plate. (I admit, it's a lot of food for just 2 people, but I like to try all types of dishes.)
I thought the food was very well done and tasted great. It was much better than what I had expected, and my favorite item was the mango shrimp - a plate contained 8 hollowed out mango skins with stir fried shrimp and mango pieces. The entire meal cost $270yuan.