My wife and I went out for seafood on our 2nd day in Haikou – traveling in Hainan Island, of course we have to go have some seafood, and we sure had a lot of seafood in Hainan. After some lengthy search for popular seafood places around Haikou, I found three possibilities: 金水门水上海鲜餐厅, 好百年观海海鲜园, and吕记海鲜城.
金水门水上海鲜餐厅 (Jing Sui Men Sui Shang Hai Xiang Cang Ting) is a seafood restaurant located east Haikou, where visitors can eat fresh seafood on a boat, and the boat also leaves the dock once it fills up.
好百年观海海鲜园 (Hao Bai Nian Guan Hai Hai Xiang Yuan) is a seafood street that's located by the ocean where it's an outside environment and you get a nice ocean view.
吕记海鲜城 (Lv Ji Hai Xiang Cheng) is also a very popular seafood restaurant; however it is not located by the ocean.
Haikou Seafood
I could not decide on which one to go, but after asking for some recommendations from the hotel staff, I decided to go to 吕记海鲜城 (Lv Ji Hai Xiang Cheng), even though it does not have an ocean front view. But it came highly recommended by the locals so I thought I would listen to their advice. Unfortunately, I didn't realize I had left my camera back at the hotel until we sat down at our table!
I cannot believe I forgot to bring my camera for my most important meal of the day! Anyways, the next day we were in the area doing some shopping, and I managed to take some photos from the outside.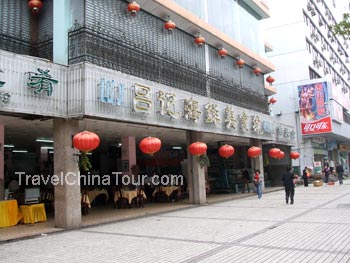 The seafood restaurant.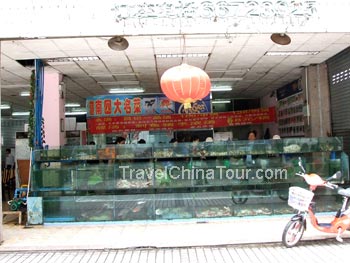 Water tanks holding all types of fresh seafood you can choose from.
Haikou 吕记海鲜城 Seafood
Unfortunately, because I don't have any pictures to show what it was like to dine at the seafood restaurant, I'll have to describe what it was like there the best I can.
Arriving at the seafood restaurant, the entrance is lined up with fish tanks filled with a wide variety of seafood. We sat down at our table, and once seated, I headed over to the live seafood section to pick out what we want cooked. There were probably 20 to 30 types of different seafood including all types of clams, oysters, shrimps, crabs, lobsters, fish, and many kinds of seafood that I don't even know the names to.
I picked a crab weighing 1.5lbs ($80yuan/lb), 1lb of shrimp ($35yuan/lb), and a red fish weighing 1.4lbs ($35yuan/lb). I also ordered a pitcher of fresh coconut juice, and two stir fried vegetable dishes. We had the crab steamed, the shrimps fried with salt and chili peppers, and the fish braised. I never thought fresh coconut juice could taste so good.
The food came very fast. The shrimps were crispy and very tasty, the crab was steamed and tasted great, but the fish wasn't all that good. Overall, I was pretty happy with the seafood. The meal for two cost us $220yuan, and for seafood, I think the pricing is about average.
Since I haven't been to the other two seafood restaurants I mentioned, I can't really compare them.