The revolving restaurant is located at the 186 meter level of the Harbin broadcasting tower. Its cost is included with the entrance ticket package including tours of various areas of the Dragon Tower, and does not start serving diner until 5:30pm. Since I arrived at the Longta a little after 2 pm, I had plenty of time to tour the dragon tower, before heading to the revolving restaurant, which serves a buffet of various Chinese cuisines.
The restaurant is separated into a higher level in the center which is fixed, and a lower level in the outer area that's revolving around the center. The center circle is both for seating, and where the buffet tables are located. The outter circle is all for seating and dining.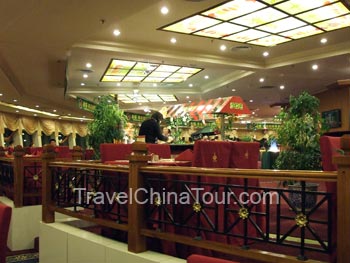 Photo taken at the outer circle of the inner circle.
The restaurant has a nice setting, and serves verious Chinese food on the buffet, and is organized into various sections such as salads, BBQ, Japanese food, soups, Chinese stir fry, and deserts. Chinese foods included items such as fried rice, shanghai noodles, sweet and sour ribs, tofu, and various other dishes. The soup section was quite unique where you can choose from a variety of items on the buffet table, and have the chef there cook it into a soup for you.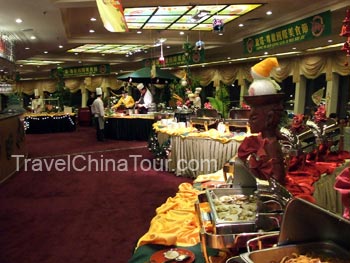 The BBQ section had Chinese style BBQ duck, wings, Harbin style sausages, lamb, ribs and more. The Japanese section wasn't so enjoyable, mainly because they didn't cook it quite right. I live in Vancouver, so we get alot of good Sushi here, but the sushi at the Dragon Tower restaurant was quite bad. The wasabi was sour and tasteless. The thing is, I really haven't had any good sushi in China, yet - partly because I don't make an effort to look for sushi restaurants, and good sushi is something we have plenty of in Vancouver. The desert section served all types of Chinese sweets such as cookies, cakes, red bean cake, fruits, and ice cream.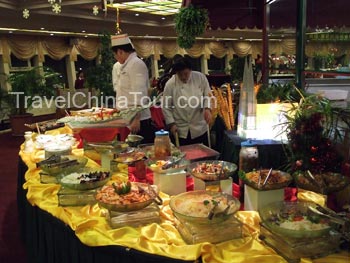 I Finished dinner around 6:30, and headed back to the hotel.