By the time I headed back to my hotel, it was around 9pm, and it was starting to get dark. I had booked a hotel right at Guilin city center (Zhong Xing Guang Cang, or City Center Square). The main road of Guilin city is the Zhong Shan Road, which is the busiest road in Guilin, and on Zhong Shan road (by the City Center Square section), there is a nightly market place. If I didn't book my hotel in this area, I would've never found out about this night market.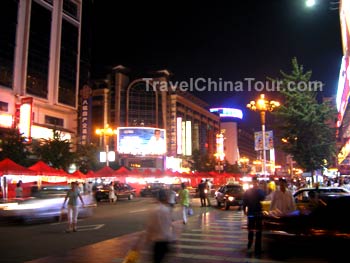 Guilinc city at night - photo of Zhong San Road, the busiest road in Guilin. All the little red tents you see lined up in the center of Zhong San road is the Guilin night market.
Everynight, after it gets dark, small Chinese merchants come to Zhong San road and setup shop for the Guilin night market. The night market is located right in the center of Zhong San road with traffic speeding by on the sides. The nightmarket is probably at least 3 to 4 blocks long with hundreds of small shops in the red tents.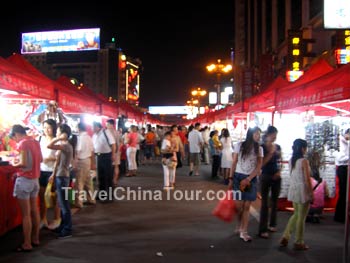 Guiling Night Market.
At the night market, you can find all types of clothing, consumer goods, leather products, artist products, luggage and bags, jewlery and accessories, and so much more. You'll also find a lot of bootlegged stuff like knock off name brands. I bought a Hugo Boss wallet for $10yuan there for the heck of it. :) I also bought some old style Chinese clothing for $50 yuan a set. At the night market, there are also snack food stands spread throughout the entire line of shops and tents. They sell typical Guilin style foods - most of which are various types of preserved vegetables.

Snack food stand at the night market. Mostly are preserved vegetables, and some fruits.
This night market is a bargain shoppers paradise. You can bargain on anything and everything you see. If you ever visit Guilin, make sure you go visit the night market here.