Chinese new year's day was Feburary 18th this year, and Feburary 17th was the last day of 2006 (by lunar calendar). Each year, these are the two most important days for the Chinese people. "Official" new year celebration starts on the 17th (last day of 2006) lasting all the way through the 18th (1st day of 2007). This is a time where families gather and spend time (alot of time) eating, chatting, and catching up on past and recent events.
We have a pretty big family (on my mom's side) - seems like all the baby boomer generation has many siblings. Although not everyone could make it for the Chinese new year gathering, we still had about 15 people to feed every meal, not including 2 grand children. If everyone was here, there would be around 25 people.
Chinese New Year Food
We did our Chinese new year grocery shopping 3 days ahead of time, which added up to more than 100lbs of food including 5 rabbits, 4 chickens (2 roosters, 2 hens), 2 ducks, fish and a whole cartload of other stuff. Early in the morning, the family started arriving around 10am (mostly aunts who were coming over to help prepare the meals). By about 11am everyone had arrived, and were sitting around chatting, snacking, playing with the grand children.
Because we have so many mouths to feed, it takes a long time to prepare and cook all the food. Around 12:30pm lunch was ready.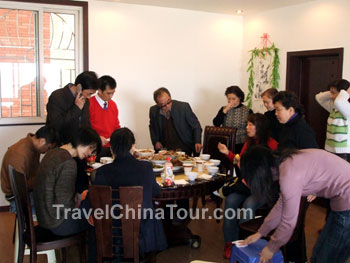 Our family gathering around the dinning table, about to start lunch.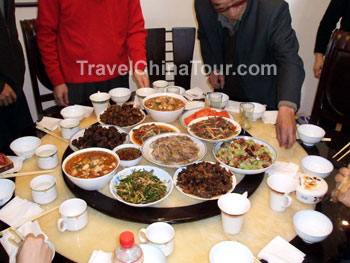 Food served for lunch: Sichuan fish, "Cross the river" rabbit, spicy rabbit, carrot and beef stew, and many other dishes including a duck soup.
Lunch lasted until 2pm. Around 2:30pm, we all headed out to Dazhou square for a walk and immerse ourselves in the massive crowd that's gathered there for Chinese New Year. There's was no special event, or organized celebration there, but rather, it was just a large place for people to gather, enjoy outdoor activities, fly kites, shoot off fireworks, and ironically, the most popular "outdoor activity" was Mah-jong.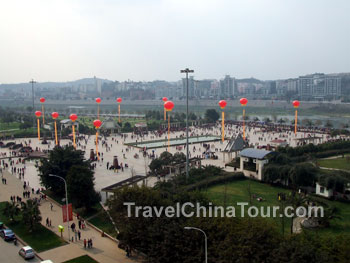 Photo of Dazhou Square in Neijiang, taken from the balcony where we live.

A massive crowd gathered along the upper Tuo river banks, and guess what they are doing?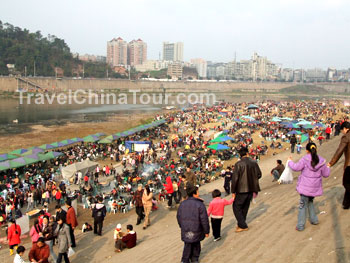 They are doing the same thing these people are doing along the lower banks of the Tuo river... Playing Mah Jong! Have you ever seen so many people playing Mah Jong like this? I bet not.
Mah Jong is like the unofficial sport of China. This is especially true in Sichuan province. The thousands of people you see in the photos above, are all playing mah-jong, 4 to a table. Vendors setup shop along side the Tuo river and charge a small seating fee, and sell tea and other drinks to the players. Other people who are not playing Mahjong are flying kites, like me.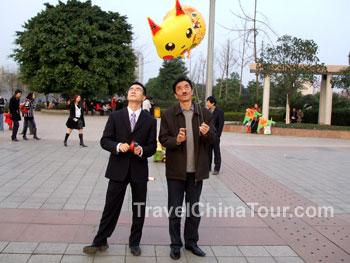 A photo of me flying a kite with my 5th uncle, who's holding helium baloons for the grand children.
We spent a good 3 hours hanging around Dazhou Square. While we were having fun, dinner was already being prepared.