To the right of the main hall is a red-faced figure called Guan Yu. He has a huge frame, long beard and deep red lips. His whole appearance looks dignified. Guan Yu was the sworn brother of Liu Bei and Zhang Fei. Five years before the Yellow Turban Rebellion, he killed a wealthy bully and was a fugitive until he met Liu Bei. His unswerving loyalty and strength were crucial to Liu Bei's efforts. He was killed with his son Guan Ping (关平) when they were captured at Maicheng (麦城). Well, now I'd like to tell you a story about Guan Yu. This story is taken from "the Romance of the Three Kingdoms". It tells that Guan Yu is playing Weiqi, "Chinese Go" (围棋) while undergoing an arm surgery.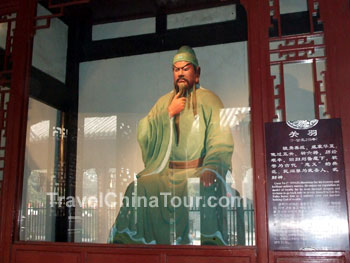 General Guanyu of the Three Kingdoms. This was a photo of Guanyu statue located in the inner courts of Wuhou temple, which I think is a better depiction of Guanyu compared to the statue in the main hall.
The episode began with Guan Yu and his soldiers' attack on Fancheng. During his attack a poisonous arrow wounded him. The poison reached the bone, and his right arm was badly swollen. He was unable to move. At this moment, Hua Tuo (华佗),the famous Chinese physician, arrived on boat. Hua Tuo examined GuanYu, and concluded that Guan Yu needed an operation immediately. Guan Yu did not want Hua to put him to sleep during the operation, for he worried that the enemy might attack them. Hua suggested that Guanyu should tie his arm to a pillar and have his eyes covered. Hua was afraid that Guan Yu couldn't stand the pain and would move during his operation.
When Guan Yu heard Hua Tuo's suggestion, he laughed, saying, "This is such a simple procedure. There is no need for these." Guan Yu asked for some wine, tore off his shirt, and stuck his arm out for Hua. Guan Yu started to play Weiqi against Ma Liang (马良), his assistant.
Hua Tuo took out a surgical knife and proceeded to cut open Guan Yu's arm, removing the infected area. The poison had reached the bone, and it turned blue. Hua had to scrape the bone and hear the scraping sound, except Guan Yu. He was talking, drinking, and playing Weiqi. After Hua had finished his operation, Guan Yu told Hua, "My arm is good as new and there is no pain at all. You are really the best of all doctors!" Hua replied, "In my whole life, I have never seen anyone as brave as you. You are the best of all heroes!" It seemed that Guan Yu used Weiqi to divert his attention during his surgery, but his bravery was still unmatched throughout history.
Three Kingdoms General - Zhang Fei
To the left of the main hall is a black-faced figure called General Zhang Fei. Zhang Fei was the sworn brother of Liu Bei and Guan Yu, the youngest one of the three. He has large eyes, and a pointed and bristling moustache. It is said that he spoke in a loud bass voice. His angry roar brought fear into the hearts of many brave men.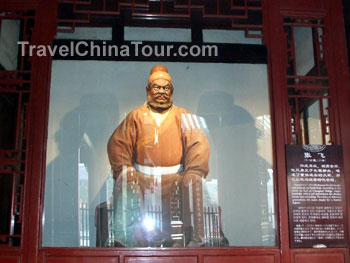 General Zhang Fei, sworn blood borthers with Liu Bei and Guanyu.
His most spectacular battle was his brave stand at the Changban Slope Bridge (长板坡桥), where he issued a challenge so fiercely that it's said one of Cao Cao's generals died on the spot. Zhang Fei was hot-tempered. He usually got drunk and flogged his officers. At about age 54 he was murdered by his two bad-tempered subordinates when he was in his sleep.
There are two galleries in the same yard. They contain 28 terracotta figures dated from the Qing Dynasty. General figures are on the right, and ministers on the left. Pang Tong (庞统) heads the civil officials' gallery. Zhao Yun (赵云) heads the military officials' galleries. Let's view the figures in the galleries, who are well-loved by many Chinese people generation by generation.
Other Generals of the Three Kingdoms
The military officials' galleries is headed by Zhao Yun. He was one of the most famous warriors in the Three Kingdoms Period. Zhao Yun used to fight for Gongsun Zan. Later Zhao Yun left him. He found out that Gongsun was a selfish man who cared little about the suffering of the people. Zhao then came under the wings of Liu Bei. Zhao Yun was known for his loyalty and courage. During the battle of Changban Slope, Zhao Yun came to rescue Liu's wife and the newly born baby.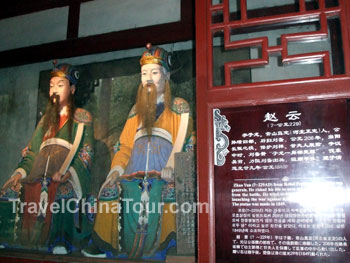 Zhaoyun, another very famous and popular figure of the three kingdoms.
Liu's wife was injured and she couldn't move. The Caocao forces heavily encircled them. Under this atypical situation Liu's wife gave the baby to Zhao Yun and asked Zhao Yun to leave immediately. Zhao Yun couldn't go without her. So she committed suicide for she knew that she would only be an obstacle to Zhao Yun. Zhao Yun thus placed the infant inside his chest armor and fought through the heavy encirclement of the Cao troops. He fought through, killing generals and soldiers, without injuring himself and the baby. Finally Zhao Yun escaped safely from the heavy encirclements with the baby. This was the battle that made Zhao Yun famous.
During the Three Kingdoms Period, the rulers of the independent states fought each other for political power. The figures in the corridors are just about holy to thousands of Three Kingdoms enthusiasts. The well-loved figures are the historical sources from which later novels and drama have captured the imaginations of generations of Chinese readers and audience.