Without much to do, we decided to go for some dim sum, and then do some shopping around the Ming Zhu Guang Cang again. We had brunch at Xinyuan Hot Spring Hotel Restaurant, in Chinese, it's: 龙泉早茶 - 海秀路鑫源大酒店.
Xinyuan hotel is located right at the Mingzhu Guang Cang (People's Cultural Plaza), and the restaurant is located on 3rd floor of the hotel.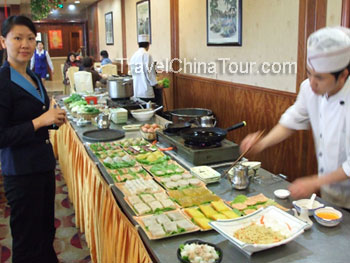 They have carts with dim sum items pushed around, and if you see something you like, you can order it. Small items cost $3yuan, medium items cost $5yuan, large items cost $7 yuan, special items cost $10 yuan, and extra large items cost $12 yuan.
The cart includes items such as congee, Chinese buns, tofu, steamed ribs, rice cake, sesame balls, shrimp dumplings, and other dim sum items.
Aside from the pushed carts with dim sum items, they also have a table where you can order food from. This table contains food that requires some cooking, and once cooked, the waitresses will bring it to your table. This table includes items such as dumplings, shrimp cakes, soup, noodles, and various other items.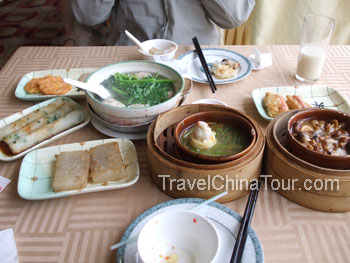 Breakfast goes from about 7:30am to 11am. The meal cost us $95yuan.
After breakfast, went shopping around the People's Cultural Plaza. It's a long street with several large shopping malls, and many smaller shops along the side of the street.
There are also all types of fruit stands selling many types of tropical fruits such as coconuts, 4 or 5 types of mangoes, dragon fruit, papaya, and so many types of fruits that I don't know the names to.
There are also many snack stands on the streets selling snacks such as boiled corn, fried walnuts, spicy wings, BBQ meat skewers, and others.