Sichuan province is located southwest of China. The province covers 480,000 square kilometers, and has a population of about 87 million. Sichuan is often referred to as "heaven endowed land" because the province is rich in natural resources and has an abundance of beautiful scenery.
There's several different ways of spelling "Sichuan" floating around, and I'm really not sure which is the correct "official" spelling. The spellings you're likely to see include:
Sichuan
Szechuan
Sichwan
Szechwan
So when you see these different spellings, they all mean the same thing, but I believe "Sichuan" is the spelling that is used most often.
Coming From a Szechwan Ren
Sichuan ren means Sichuan person, and I'm a "Sichuan ren". I was born in a mid sized city in szechuan called Neijiang, about 2 hours drive from Chengdu Although I moved to Canada when I was a young boy, I never forgot my heritage, and definitely never forgot how to eat spicy food.
I'm sure most know that Sichuan is famous of its spicy and tongue numbing food.
Now that I travel to Sichuan several times each year for touring and visiting my family, my capacity for eating spicy food seems to be improving even more. I can't get enough of spicy food. Well.... the only downside is the aftermath of eating extremely spicy food. =D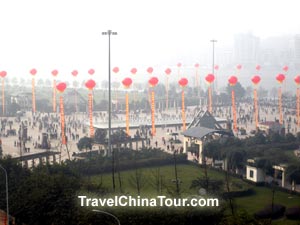 (DaZhou Plaza of my Hometown NeiJiang in Sichuan. All the red balloons you see are put up for Chinese New Years.)
Being a Szechuan ren, I know the province quite well, and I also know the tourism spots very well. I've been to most of them, and you can read more about them on the site here. Some of the most popular tourism spots include: Leshan Giant Buddha, Mount Emei, and JiuZhaiGou. Cities worth visiting are Chengdu and Chongqing, and I'll also include an honorable mention of my hometown Neijiang, although it's not well known to foreigners. I've also been to some of the lesser well known tourist destinations among foreigners, but that are quite famous in Sichuan province, and these include the WuLiangYe wine factory in YiBing, and the Museum of dinosaurs in ZiGong.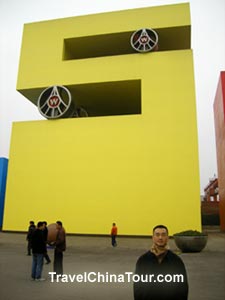 (Here I am at the entrance of the WuLiangYe Wine Factory in YiBing - one of the most famous wine makers in China.)
Sichuan Economy
Szechuan is one of the major agricultural production provinces in China. Because of its rich natural resources, it's referred to as the "heaven endowed land" (Ì츮֮‡ø). The major products of Sichuan include grain, rice, wheat, peaches, sugar canes, and sweet potatoes. I have to say that sugar cane and sweet potatoes are very common, and very inexpensive. When in season, you'll find small merchants selling sugarcane almost everywhere you go. These usually cost $2, $3, up to $6 yuan per sugarcane - depending on the quality. The good thing about these merchants, is that they'll peel the sugarcane for you as well.
Szechuan is rich in mineral resources and natural gas. The province's iron reserve is the second largest in China and accounts for 13% of China's total reserve. The province is also famous for its wine making, accounting for 22% of China's total wine production. Sichuan's GDP for 2004 was about $656 billion yuan (US$81.33 billion) and a per capita of $6,270 RMB ($757 USD).