The Second Gate courtyard is where the Liu Bei Hall is located. First of all, let's go straight to view Liu Bei"s statue.
The statue stands behind the front altar, and his son and grandson flank him. Liu Bei was commonly called Liu Xuande (刘玄德). It was said that he looked larger than a life figure. His ears were long, the lobes touched his shoulders, and his hands hang down below his knees. His eyes were very prominent, so that he could see backward past his ears. Liu Bei remained solemn and displayed little emotion.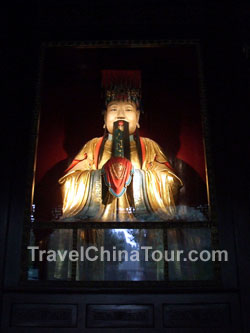 Statue of Liu Bei at Wuhou temple.
History of Liubei and Romance of Three Kingdoms
Liu Bei started his life as a shoemaker and a weaver of mats. He made his name against the Yellow Turban rebels (黄巾起义). Liu Bei, Guan Yu (关羽) and Zhang Fei (张飞) swore brotherhood at the Peach Garden to destroy the rebels and defend the Han Empire. Liu Bei was a kind and sincere man. He won the hearts of thousands of his followers through his virtuous ways, and fought in wars all around China. Before the age of fifty, Liu Bei was constantly in the service of others, including Gongsun Zan (公孙瓒), Yuan Shao(袁绍) and Liu Biao (刘表).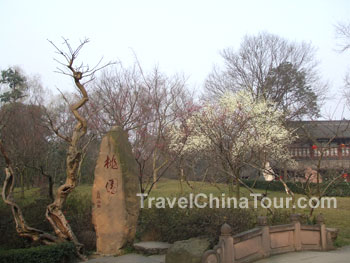 The peach garden, where Liu Bei, Guanyu, and Zhang Fei became sworn brothers. (This is not the actual garden.)
In 208, all of this changed when Liu Bei obtained the help of Zhuge Liang as his advisor. Together, Liu Bei and Sun Quan's (孙权) united forces defeated Cao Cao (曹操) at the Battle of the Red Wall.
In 221, Liu Bei became the first emperor of the Kingdom of Shu. Afterwards, he started a series of military expeditions against Wu, in revenge for the death of Guan Yu and Zhang Fei. Frustration and repeated defeats broke him down completely. Liu Bei knew that he was going to die very soon. He immediately summoned Zhuge Liang to Baidi (白帝) town from Chengdu and entrusted his only son to him. He said to Zhuge Liang, "If my son is good, you are to help him succeed to the throne. If he does not have the necessary qualities to be an emperor, you mustn't make him the emperor of Shu in Chengdu."
Zhuge Liang was moved to tears upon hearing this. He said, "How does your humble subject dare not to assist your son with every effort and not to be utterly loyal to him until the day your humble subject dies!" Liu Bei died of illness in Baidi town soon after his meeting with Zhuge Liang.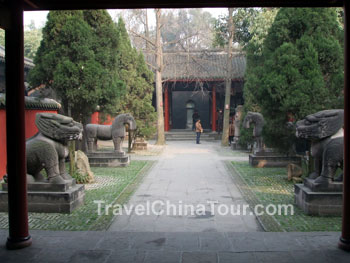 "Hui Ling" - Liu Bei's Mausoleum. 12m tall, and surrouned by 180m wall. Liu Bei's two wives were burried here later on.
On the walls of Liu Bei Hall hang wooden carved essays. They were written by Zhuge Liang. One is named "The Longzhong Plan (隆中对) and the other is "The Letter to the Throne before a Military Expedition (出师表). I will let you know the background of the Longzhong plan.
Since against the Yellow Turban rebels, Liu Bei had led his troops for almost twenty years. He fought here and there and couldn't find a fixed base of operations. In 207, Liu Bei garrisoned at Xinye (新野 , on the current side of Hanyuan city in Hunan Province). He realized that he would not be able to go reunify China until he found a truly learned advisor. Xu Shu (徐庶) was Zhuge Liang's good friend, and he recommended Zhuge Liang to Liu Bei.
Xu Shu said to Liu Bei , "Zhuge Kongming is a dragon lying in wait, but ready to fly. Would you like to meet him?"
"Bring him with you to see me!" Liu Bei replied.
"This man has noble aspirations," Xu Shu responded.
"You cannot simply summon him. He would only come if you personally went to call him. He can't be forced to come to see you. You'd better go to his house to ask him."
Thereupon Liu Bei took Guan Yu and Zhang Fei and went to Longzhong to pay a formal visit to Zhuge Liang. They had to go three times before they could see him. It is said that the first time, Zhuge Liang had gone traveling, so they didn't meet him. The second time, he was also out, and they were only able to meet his younger brother. It was only on the third time that they received Zhuge Liang's warm hospitality.
On the third visit when Liu Bei finally met Zhuge Liang, they discussed great matters concerning China. Zhuge Liang knew many strategies. He analyzed the contemporary situation for Liu and suggested plans for the future. Liu Bei listened to him and asked questions. The Longzhong Plan was actually a dialogue between Liu Bei and Zhuge Liang when they had their discussion. Afterwards Liu Bei relied on him for advice in all matters. In order to repay the favor Liu Bei had shown him, Zhuge Liang gave his utmost to help Liu Bei establish political power for the Kingdom of Shu. Even after Liu Bei died, he continued to support loyally the slow-witted successor, Liu Chan (刘禅).
Here is the other wooden carved essay: The Letter to the Throne before a Military Expedition. It was a petition written by Zhuge Liang to the young emperor, Liu Chan in 227. He wrote this petition to ask the emperor for permission to start his northern expeditions. In his letter he said to the emperor, "Rewards and punishments should be meted out equitably. There should be no place for favoritism or inequality under the law." In his letter Zhuge Liang also recommended some able and learned generals and scholars. Finally Zhuge Liang showed his loyalty to the late emperor and his determination to realize the dreams of his master and himself. "His Late Majesty knew that your humble subject was prudent, so he entrusted your humble subject with the Great Task before his death. Since accepting this responsibility, your humble subject has toiled days and nights lest the job be wanting or fallen short of His Late Majesty's expectations."
Well, now let's view the other statues. On the east side of the Liu Bei statue is a figure whose name was Liu Chen (刘谌). He was one of Liu Bei's grandsons. Liu Chan was Liu Bei's son. His statue used to be placed on the west side of the Liu Bei statue. During the Song Dynasty his figure statue was moved away. Since then Liu Bei had no son to accompany him. As I told you earlier, after Liu Bei's death, Zhuge Liang wholeheartedly supported the young emperor until the day he died. Unfortunately, Liu Chan was one of the weakest and stupid emperors in Chinese history and finally lost the kingdom to the Wei. He was taken away from Chengdu to Luoyang, the capital of Wei. During his stay in Luoyang, the Wei emperor offered him a comfortable life. He was so happy that he soon forgot the disgrace of having his kingdom conquered by the Wei.