Over 20 million visitors travel to Hong Kong each year. The city is full of exciting events and attractions - you can experience rich Chinese culture, wander through the streets of Hong Kong, discover award winning architecture, visit the scenic coastline, shop for anything and everything, and tour cultural heritages.
Victoria Peak - Victoria Peak overlooks Hong Kong island. From the top of the peak, visitors can get a view of Victoria Harbor, and the masses of skyscrapers. The peak offers a wide variety of shops, restaurants, and entertainment.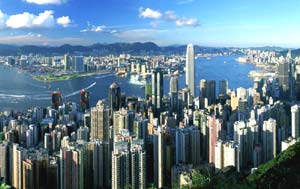 Ocean Park - It is one of the largest amusement parks in Asia, and it is one of the largest marine parks in the world. There are over 40 major attractions in Ocean Park. Inside, you will see reef aquarium, giant pandas, roller coasters, and much more.
Aberdeen - Aberdeen is the scenic highlight of Hong Kong Island. Experience the traditional lifestyle of boat dwellers, and taste fresh, delicious seafood at the Jumbo Floating Restaurant.
Sik Sik Yuen Wong Tai Sin Temple - Wong Tai Sin temple is one of the most famous taoist temples in Hong Kong. Modeled after traditional Chinese architecture, this temple is built with large red pillars, yellow latticework, golden roof, and multi colored carvings.
Hong Kong Convention & Exhibition Center - This is one of Hong Kong's defining landmarks, and encompasses 250,000 square meters. This is an integrated complex of exhibition halls, hotel, restaurants, and impressive glass walls.
Causeway Bay and Happy Valley - Causeway Bay is a popular nightlife and dinning area. It's a major shopping and entertainment area, and home to large shopping malls and department stores.