See part 1 of our Summer Palace guide here. Another key structure of Summer Palace is the Foxiangge (Tower of Buddhist Incense). It was first built in 1750 during the 15th year of emperor Qianlong's reign, but was later destroyed by Anglo-French troops. In 1891, it was rebuilt again. This was a religious building standing 40 meters tall, and elevated on a stone platform 20 meters tall. Standing at the center of Summer Palace, the Foxiangge is a masterpiece of ancient Chinese architecture.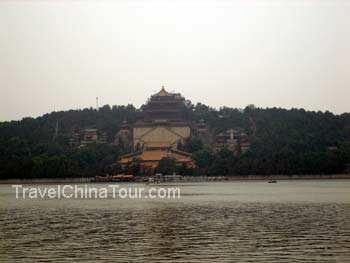 Inside Foxiangge is the statue of Avalokitesvara Bodhisattvais, who has 12 faces, 36 eyes, 24 arms, and standing on a pedestal with 999 lotus pedals. This statue is 5 meters tall and was first cast in 1574.
On the northern shore of the lake is the Marble Boat built entirely of stone slabs that is 36 meters long. It is also known as the Qingyanfang (Boat of Purity and Ease). The boat is decorated with finely carved beams and lacquered pillars. The original marble boat was built in 1755, and was destroyed in 1860 by Anglo-French troops, and in 1894, Empress Cixi rebuilt it and named it Qingyanfang.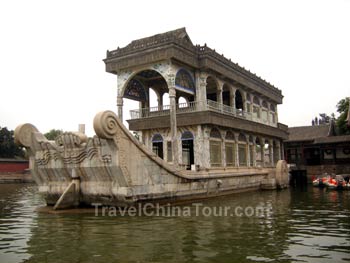 Heading east, following the path along West Lake, is the Endless Corridor. The long corridor is a colorful gallery filled with paintings and decorations. The beams are painted with pictures depicting a wide range of subjects, and many of the paintings tell about history, and show historical figures. The Endless Corridor consists of 273 sections starting at Yaoyuemen (Gate for Inviting the Moon), and has a total distance of 728 meters ending at the Paiyunmen (Cloud Dispelling Gate).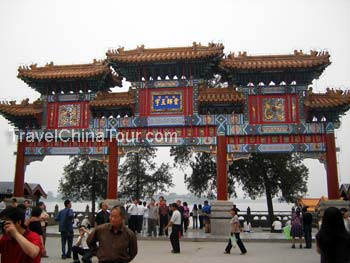 A tall standing gate in front of the Paiyunmen.
This scenic area covers an area of 20,000 square meters with an assortment of palaces, towers, pavilions arches, and walkways. This entire area with the Temple of Immense Gratitude and Longevity in the center, was built during Emperor Qianlong's reign.
The Suzhou street located by rear lake was a shopping street built during emperor Qianlong's reign. This 300 meter long street was where empresses and imperial concubines went in times of leisure. There are various shops including teahouses, restaurants, pawnshops, etc...