The Yonghegong Lamasery (Palace of Harmony and Peace) in beijing is one of the largest and most well preserved lamasery of Gelug Sect. During the Ming Dynasty, it was used as the official residence for the eunuchs. In 1694, Yonghegong was the residence of Emperor Yongzheng when he was still just a prince.
In 1725, emperor Yongzheng made it into an imperial palace for short stays away from the forbidden city, and renamed it Yonghegong. In 1744, under the reign of emperor Qianlong, Yonghegong was formally changed to a lamasery, and was made the central lamasery for lama administration.
Yonghegong consists of seven courtyards. Its main structures consists of the Tianwangdian (Hall of Heavenly Kings), Yoghegong (Palace of Harmony and Peace), Yongyoudian (Hall of Eternal Blessing), Falundian (Hall of the Wheel of the Law), and Wanfuge (Tower of Boundless Happiness). These main structures are aligned along the north-south axis of the complex.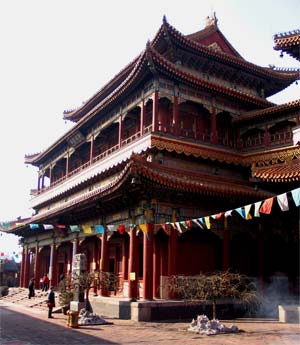 The Wangfuge is a 3 story building, and is the most magnificent building in the Yonghegong complex. It is 25 meters tall, and flanked by the Yongkangge (Pavilion of Everlasting Health), and Yansuige (Tower of Lasting Peace). These buildings are connected by corridors. In the center of Wangfuge, is a large statue of Maitreya placed on a white marble base. It stands 26 meters high (18 meters above ground, and 8 meters below ground). This statue was carved out of a single trunk of white sandal-wood.
A Ming bronze sculpture of Mount Sumeru stands in front of the Yonghegong building. According to Buddhist tradition, Mount Sumeru is the center of the world. This statue of Mount Sumeru is 1.5 meters tall, consists of seven tiers, and is placed on an oval white marble pool. On top of the Mount Sumeru, is the paradise where Sakyamuni lives. In the middle of the Mount Sumeru is mankind, and at the bottom, below the sea waves is hell.
Yonghegong is a treasure house of relics exemplifying Han, Tibetan, Manchu, and Mongolian religious art and culture. In 1961, the Beijing Yonghegong Lamasery was added to the nation's historical sites under state protection.