The reign of the Tang Dynasty lasted for about 300 years from 618 to 907 AD. About 80 kilometers northwest of Xian city lies the tombs of the Tang Dynasty. Of all the tombs built here, Qianling is the largest and most splendid. Buried here is Emperor Gaozong (628-683), and his empress Wu Zetian (624-705), who is one of the famous three women rules in Chinese history. Wu Zetian was the only female to hold the title of Emperor, which she took over after the dead of her husband.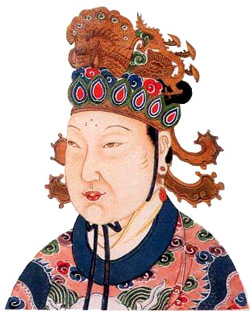 Wu Zetian
Construction of Qianling Mausoleum began in 684, and it lasted 23 years. The tomb is situated on the slope of Liangshan Hill's northern peak. The mausoleum is constructed like the design of Chang'an city, and built according to traditional architecture on a north-south axis. The tomb was originally surrounded by an inner and outer city walls; however the outer walls collapsed long ago. The inner walls has a circumference of 40 kilometers, surrounds an area of 240 hectares. There are four main gates of the inner walls, and they are: Blue Dragon Gate in the east, White Tiger Gate in the west, Tortoise Gate in the north, and Phoenix Gate in the south.
Qianling Mausoleum also includes seventeen satellite tombs of prominent Tang princes and ministers. The path leading to the Emperor's tomb is called the Shendao, or the divine path. The road is lined with stone animals and human statues including horses, winged horses, and ostriches. There are 124 stone sculptures in total.
There are 2 large stone tablets near the south gate. Each stone tablet stands 6.3 meters tall. The tablet on the west side of the gate is a monument to emperor Gaozong, and it contains 8,000 words of praise written by Empress Wu Zetian. The tablet on the east side of the gate is the famous wordless tablet. It was erected by Wu Zetian in her own memory. The wordless tablet is a display of her arrogance - signifying that her greatness cannot be express by words.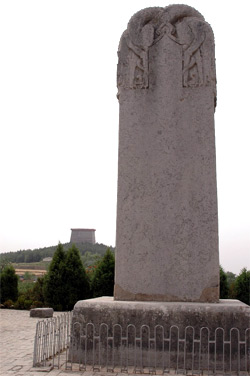 Within the mausoleum site, there were 278 buildings including buildings such as the sacrifice hall, and the hall of ministers, and much more. However, much of the above buildings are no longer standing, unlike the stone tablets.
Not far from these stone tablets is the field of stone statues of foreign envoys and minority chieftains who attended emperor Gaozong's funeral. In total, there were 61 stone statues. One statue was lost, and the rest of the stone statues have been beheaded, although no one knows how or why this happened.