The Beijing Opera has a history of over 200 years, and it is one of the key features of ancient Chinese culture. It was named Peking Opera as it evolved from several types of local operas that were performed in the city of Beijing. Its origins tracks back to 1790 during the Qing Dynasty, where 4 famous operas from Anhui Province performed in Beijing.
The music of Peking Opera consists of stringed instruments such as the Erhu (Chinese Violin, or two-string fiddle), Jinghu (Beijing fiddle), Yueqin (moon shaped mandolin), sanxian (3 stringed instrument), Chinese flue, and suona. In addition to string instruments, there are drums, gongs, and cymbals.
What is Peking Opera
There are 4 types of roles in Beijing Opera, and they are classified based on the age and personality of the characters. The 4 types of roles are: Sheng, Dan, Jing, and Chou. All male roles are Sheng, which is then sub-divided into 3 types: Laosheng (old man), Xiao-sheng (young man), and Wu-sheng (warrior type).
All the female roles are known as Dan, which is also sub-divided into several more types which are: qingyi (quiet and gentle), huadan (vivacious type), wudan (woman skilled in martial arts), daomadan (woman skilled fighting with weapons), and laodan (old woman).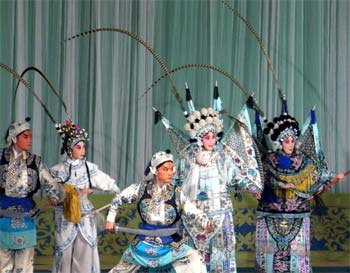 The third type is the Jing (painted face), which portray characters that are frank and open minded, or those who are crafty and dangerous. The fourth type is the Chou, or clown.
Peking Opera has a unique set of performances that combines acting, acrobatics, singing, and dancing. The color schemes consists of a variety of color mixes that represents the personality, role, and fate of the characters. For example, red color is for the bold and the loyal, black is for the wise, blue and green is for bandits and heroes, yellow and white for the savage and cruel, and gold and silver for the mysterious, which are usually immortals or monsters.
There are about 1,400 plays for Beijing Opera. These are usually based on historical novels, or traditional stories about civil, political, and military struggles. The older plays were adaptations from earlier Chinese theatre styles. The plays are generally sorted into civil plays, and martial plays. Civil types are usually plays focused on relationships between the characters involving personal, domestic, and romantic situation. Martial plays have more emphasis on action and fighting.
The costumes of Peking Opera are artistic creations themselves, which usually consists of colorful and vibrant robes, jackets, armor, helms, flags, and weapons.