My name is Jim, and I love to travel, especially to China. I love the atmosphere, the overcrowded streets, the amazing food, the historical and cultural sites, my family, and so much more.
I spent the most part of my early life living in poverty along with many, many others in China back then. I lived with my mother in a little, run-down, square room about 15' X 15'. Our tiny room was at the bottom floor of the 7th High School of Neijiang. In it, we had a bed, a table and a few chairs, and a dresser. That was about all we had - no bathroom, no kitchen, no appliances. We had to use the public washrooms in the school. Outside tiny room, there was a clay stove that burned coal and wood for cooking needs.
I immigrated to Canada in the late 80's with my family, and have settled here ever since. I graduated from University of Toronto back in year 2000. During that period, we were able to make one trip back to China to visit my relatives in 1995. After my absence of many years, China made some drastic changes. Since it opened up to the world in 1978, China has grown and developed in strides.
China's Fast Development Pace
It's not until another 10 years later that I was able to visit China again. I was quite awed at the changes in China during these 10 years, so much more so than my first visit in 1995. It seemed to me that China had grown in these 10 years more than the last 100 years combined! My home town had changed so much that I got lost during my first stroll around the city, and could barely recognize many of the streets.
The city has expanded dramatically - new condominiums and commercial towers sprung up all over; the river that run through the city seem to have receded much over the past two decades, no longer do I see boats and ships passing through; a new recreational park just finished construction in 2003 right by the river. Now this is just a medium-small sized city (Neijiang) with a population of about 600,000, just imagine how the rest of China has changed!
Below are two pictures I took of the new recreational park called "Da Zhou Guang Chang". One was taken during day time in front of the park, and another taken at night time on 8th floor at my uncle's condo.
Picture of Da Zhou Park at day time. This was taken just before Chinese new years day, which is why you see so many lanterns (air balloons) floating and so much decorations all around.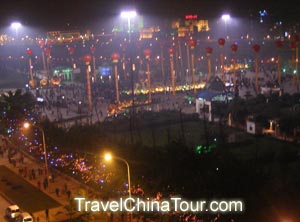 Night time is amazing, especially during Chinese new years. Notice the many lanterns floating. There are millions of lights everywhere at night time, and during Chinese new year, it's a light show every night with lights put up on almost every tree in the city. It's a bit hard to see, but the path of trees by the side walk (the red and blue light dots you see) are all flashing lights.
Things have changed much for me since coming to Canada. I now travel to China, visit my relatives, and tour China several times each year - discovering new sites, trying new food, meeting new people, and catching up on what I've missed during the past two decades. I will share stories of all my Travels to China, and my adventures in China on TravelChinaTour.com.