The Summer Palace is located in the northwest suburbs of Beijing city. It is a world famous classical imperial garden that covers an area of over 290 hectares, and comprises mainly of the Wanshoushan (Longevity Hill) and Kunming Lake.
During the Yuan Dynasty, under the reign of Kublai Khan, the lake was expanded, and in 1494, Ming Dynasty emperor Xiaozong built the Yuanjingsi (Temple of Perfection and Tranquility) here. Chinese classical garden architecture had reached its peak by mid 18th century. In 1750, Emperor Qianlong constructed the Qingyiyuan (Garden of Ripples), which lasted over 15 years. The garden linked up the imperial gardens in the northwestern suburbs of Beijing to form a complete imperial garden complex known as the "Three Hills and Five Gardens". Unfortunately, this was all burnt down in 1860 by the Anglo-French Allied Forces.
In 1885, Cixi embezzled funds from the Imperial Navy to restore the Summer Palace, and named it Yiheyuan (Garden of Health and Peace). In 1924, the Summer Palace was opened to the public. Since the found of the Peoples Republic of China, the government has been funding to renovate the ancient buildings and structures according to their original designs, and in 1998, Summer Palace was added to the World Heritage List by UNESCO.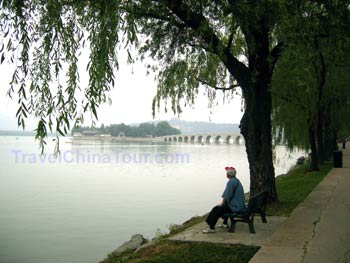 The Summer Palace is the best preserved imperial garden in Beijing, and is a gem in the Chinese art of garden construction. Natural scenery is combined with man-made structures to form a garden of breath taking beauty.
Tour of Beijing Summer Palace
The Summer Palace is divided into 3 main sections based on their functions:
administrative area
imperial residence
scenic area
The core structure of the administrative area is the Renshoudian (Hall of Benevolence and Longevity). It was first built in 1750, and was the most active hall for political activities in the garden. Emperors handled state affairs here. In the middle of the hall is the emperor's throne and table. Behind the throne is a red sandalwood screen on which 200 Chinese characters meaning "longevity" was written in different scripts.
The Leshoutang (Hall of Happiness and Longevity) is the main building of the imperial residence area. There is a front courtyard, and a backyard, and in front of the building are bronze statues of cranes and deer symbolizing peace and harmony.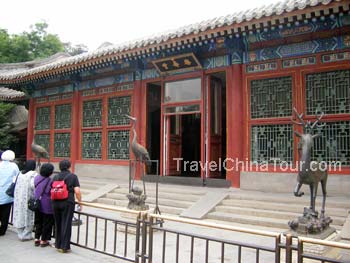 The Leshoutang.
The Deheyuan covers an area of 3,000 square meters, and was where the emperor and empresses of the Qing Dynasty were entertained with Beijing Opera performances. This area consists of 3 main buildings: Daxitai (Grand Theatre), Yiledian (Hall of Health and Happiness), and Qingshantang (Hall of Philanthropy). The grand theater here is the best preserved and largest ancient theater that exists in China today. The stage is 21 meters tall, 17 meters wide, and has 3 floors. The grand theater was much credited for advancing the art of Beijing Opera, where Cixi often sent for famous performers to give performances here.
Read more about the Summer Palace in part 2.