The Yellow River Valley is recognized by history as the birthplace of the Chinese civilization, and more than 400 sites have been discovered where the Yangshao culture once thrived. The remains of Banpo Village happens to be the largest and best preserved site.
The Yangshao culture from the neolithic age dates back about 6,000 years, around (5,000 to 3,000 BC), and the earliest beginnings of the Chinese civilization traced back to them. The Yangshao culture is characterized by finely painted pottery.
The Yangshao culture was matriarchal where women were buried with more property than men. History also records that in the Yangshao culture, people knew their mothers, but not their fathers.
Banpo museum is located at the eastern outskirts of Xian. The remains of Yangshao were first discovered in 1921. Artifacts have been unearthed from the banpo site that are the only remains of this prehistoric culture.
The Banpo Museum
Banpo Village occupies an area of about 50,000 square meters. The village consists of a main residential section of about 30,000 square meters, a pottery area, and burial grounds to the north. So far, about 10,000 square meters of the Banpo Village have been exhumed.
Five excavations took place from 1953 to 1957, and uncovered large amounts of prehistoric artifacts:
46 dwellings
200 storage pits
250 tombs
73 burial jars for children
more than 10,000 stone tools and everyday articles
6 pottery kilns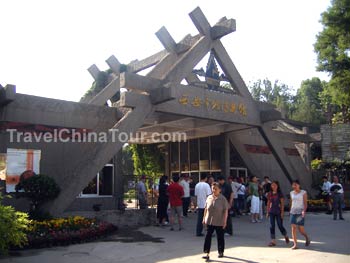 The dwellings are round or pyramidal structures with straw roofs supported by wooden beams, and the floors sunk 2 to 3 feet into the ground and contained a central fire pit. It's estimated that the area of 50,000 square meters supported a population of about 200 people. The tools they used were made primarily of stone, and finer tools such as fish hooks and needles were made of bone. These findings suggest that the Yangshao people farmed, fished, and had domesticated animals.
A large number of pottery crafts was unearthed at the Banpo Village remains. The Yangshao people created many types of pots for cooking, drinking, food storage, and for the burial of ashes. All these artifacts provide solid evidence for the existence of settled communities in prehistoric China.
Tour Banpo Village Museum
While about 10,000 square meters have been exhumed, the exhibition area of Banpo Museum is about 4,500 square meters divided into two main exhibition halls. These halls exhibit unearthed relics and artifacts from Banpo Village such as production tools and domestic tools. These include tools such as axes, sickles, and knives.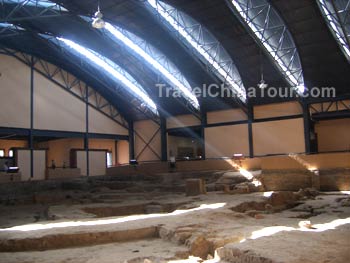 The site hall contains three sections of the Banpo Village: residential, pottery making, and burial. Here you will see things such as huts where the Yangshao people lived in; the kilns where pottery was made; and tombs where Yangshao people were buried. The Banpo Museum is very interesting, and offers a unique insight into the prehistoric Chinese civilization.