The Mausoleum of Qin Shi Huang was discovered in 1974, when nine local farmers were digging a well, and discovered a large pit of life-sized Chinese warriors and horses. The first site was built with earth and timber, measuring 210 meters long, 60 meters wide, and 4.6 to 6.5 meters high. This pit contained 6,000 TerraCotta soldiers.
The Mausoleum of Qin Shi Huang is recognized as one of the most remarkable archaeological treasures in the world. The entire tomb is buried in 20,000 square meters of pits, and contains an army of over 8,000 soldiers, horses, war chariots, and bronze weapons.
Location of China TerraCotta Soldiers
The Mausoleum of Qin Shi Huang is located 35km east of Xian, on the Lishan Mountain. Supposedly, the layout of this area is shaped like a dragon, and the tomb of emperor Qin is right at the eye of the dragon - so its a very good piece of land they had chosen.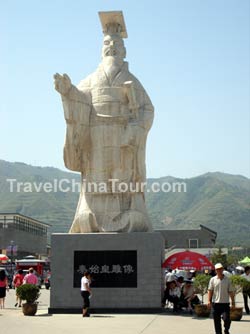 Discovery of Pit 2 to 4 of Qin Terracotta Warriors
Two years after the initial discovery in 1974, a second pit of terracotta warriors was discovered. This pit contained 1,400 warriors, 64 chariots, and has a square battle formation.
The third Terra Cotta pit was found another four years later in 1980, but this was a rather small pit containing only 1 chariot, 68 warriors, and some weapons. This pit is believed to be the headquarters of the Qin TerraCotta army. The fourth pit discovered was empty, and it's thought that Emperor Qin Shi Huang died before its completion.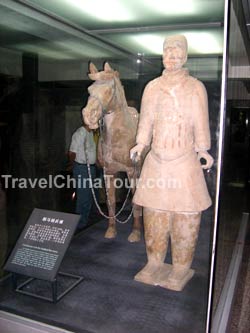 (Photo of a TerraCotta Soldier)