There's an old Chinese adage that says: "People view food as the most important". That pretty much sums up my view on food as well. I love to eat all types of food and cuisine, and I especially enjoy the hot and spicy food of the Szechuan province in China.
China's food and cuisine has had a long history. The five flavors of spicy, sweet, bitter, sour, and salty has been used in Chinese cooking over 3,000 years ago. Today, traditional Chinese food ranks among the worlds best and most popular. Authentic Chinese cuisine focus on 3 key aspects: taste, color (display), and fragrance, and chinese cooking is very particular about cutting style and cooking temperature.
8 Regional Chinese Cuisine & Chinese Food
Different regions in China offer vastly different styles of cooking and cuisine. There are estimated over 5,000 cooking styles in China. The 8 main regional Chinese cuisine are:
Szechuan Cuisine
Guangdong (Cantonese) Cuisine
Shandong Cuisine
Huaiyang Cuisine
Fujian Cuisine
Hunan Cuisine
Zhejiang Cuisine
Anhui Cuisine
We'll briefly explain each style below.
China Szechuan Cooking
I am originally born in Szehuan province. (note: there are several ways "Szechuan" is spelt including: Szechuan, Sichuan, and Szechwan, so either spelling is fine) I can't get enough of the enormous varieties of spicy and non spicy Sichuan food.
Szechwan cooking makes heavy use of dried and fresh red chilies, Szechuan pepper, ginger, and garlic, and is most well known for its Spicy and Numbing taste. Authentic Sichuan peppercorn has a unique effect of making your tongue and mouth feel numb - probably quite strange to someone who's never tried it. It's said that a person who has never tried Szechuan cuisine has never reached China.
Food is very much the single most important aspect of enjoying life in Szechuan. Everyday life revolved around food. Fresh meats and vegetables are bought at the market everyday unlike the weekly grocery shopping habits we have here in North America.
One of the most popular Szechuan cuisine is its famous hot pots (Huo Guo). It has spread all over China, and gaining popularity in the world as well; however, I have to say that unless you travel to Szechuan China yourself and taste the authentic hotspot there, then you really haven't tried the real Szechuan hot pot. I've tried all types of "hot pot" claiming to be "authentic Sichuan hot pot", but nothing ever comes close to the real thing.
The most famous hot pot in Szechuan would have to be Chongqing hot pot. It has spread all over China, and to various parts of the world. There are also different specialties of Sichuan hot pot making highlight of a certain type of food, such as duck hot pot, rabbit hot pot, eel hot pot, wild mushroom hot pot, fish hot pot, fish head hot pot, frog hot pot and more. Depending on what you feel like that day, there's a choice that will satisfy your taste buds.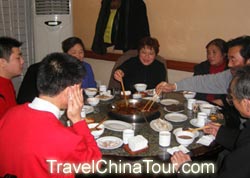 I am with my family in Neijiang Szechuan, eating a rabbit hot pot.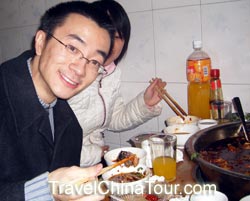 Here, I am in Chengdu with my cousins and wife eating the locally famous frog hot pot.
Of course, hot pot is not the only cooking style in Sichuan - steaming, smoking, stewing, boiling, stir frying are all used widely in szechuan cooking.
Shandong China Food
Shangdong cooking is well known for its light, non greasy cooking style. Extra effort is made to preserve and emphasize the original flavor and aroma of the cooking ingredients. Shallots and garlic are commonly used in Shangdong cuisine.
Shangdong cuisine is also known for its soups. Light soups are clear and fresh, and creamy soups are thick and strong in flavor. One type of light soup, made with swallow's nest is often served as the first major course at banquets - unlike other Chinese soups which always come at the end of a meal. Another well known specialty of Shangdong cooking is a dish called Sweet and Sour Huanghe Carp (yellow river carp).
Read about the remaining six regional Chinese cuisine in part 2