World's third tallest tower, the Oriental Pearl TV Tower is located in Pudong Park in Shanghai. It measures 468 meters high, and is only behind the CN Tower in Toronto (553.33m), Canada, and the 533 meter high TV tower in Moscow, Russia.
Construction of the Oriental Pearl Tower began in 1991 and completed in 1993. On may 1, 1994, the 118 meter tall antenna was successfully connected with the tower body.
The Oriental Pearl TV Tower sits between the Yangpu Bridge to the north and Nanpu Bridge to the south. The tower is made up of 11 spheres- the lowest sphere is 118 meters high, and the highest sphere is 295 meters high. These 11 spheres together give the image of pearls on a jade plate.

Shanghai Oriental Pearl TV Tower Tour
There are six elevators in the TV tower - five elevators are installed in the 3 columns, and one elevator between the height of 250 to 341 meters. It has a capacity of 50 people, and travels at 7 meters per second. There are two medium sized elevators that can accommodate 30 people. Inside the Oriental Pearl TV Tower, there is a revolving restaurant and a scenery viewing platform where visitors enjoy a panoramic view of the city.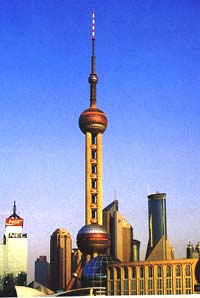 The different spheres of the Oriental Pearl Tower houses different activities and interests. The large lower sphere has a futuristic space setting and a sight seeing hall. The sphere at the very top of the tower contains shops, restaurants, and another sightseeing area. The fiver smaller pearls (spheres) is a hotel that has 25 rooms. The base of the tower is a science center.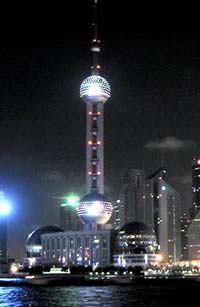 The view from inside the Oriental Pearl TV Tower is breathtaking. You will have a beautiful panoramic view of the Shanghai Bund, and the Pudong New Area. On clear days, visitors can see all the way to the Yangtze River.