The temple of six Banyan trees was built in 537 by Master Xiao Yu during the Liang Dynasty (502 - 557). The Six Banyan Tree Temple is a world famous Buddhist temple, with a history of over 1,400 years. The temple was destroyed by fire in the 10th century, and was rebuilt in 989.
The temple was renamed the Purification Wisdom Temple after it was rebuilt, because the monks here worshipped Hui Neng (638 - 713) for the Buddhist cause of purification. In 1,100, a celebrated calligrapher of the Northern Song Dynasty named Su Dongpo (1037 - 1101) visited the temple. He was amazed by the Six Banyan Trees planted in the court yard, and under sudden inspiration, wrote two words: "Six Banyans" for his inscription to the temple. Hence, the temple has been know as the Six Banyan Tree Temple.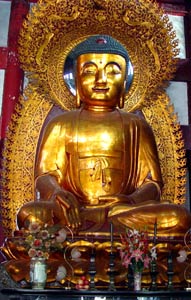 The pagoda stands in the middle of the courtyard. To the west is the rear door of the temple, and a storage of over ten stone tablets on its left side. These stone tablets records the history of the temple, and two of them engraved the image of Su Dongpo and his writing of "Six Banyan". To the south is the shrine of the 6th patriarch with a bronze statue of Hui Neng. Banyan trees are planted in front of the shrine.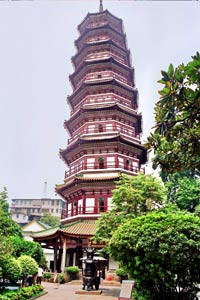 The Flowery Pagoda
The Flowery Pagoda was built in 1097. The pagoda is 57 meters high, and is constructed of wood and bricks. From the outside, the building looks like it is only 9 stories tall; however, it is in fact 17 stories tall from the inside. The building received its name from its colorful exterior. According to historical records, a copper mirror, a sword, a tripod, and some other relics were buried under the foundation of the pagoda.
At the top floor of the pagoda is a large bronze column that has 1,000 Buddha figurines, which was crafted in 1358 during the Ming Dynasty. The bronze column weighs more than 5 tons.