Xiamen city is located in the southern part of Fujian Province. This city has been a traditional trading port in Southeast China, and it is a famous tourist destination as well. Xiamen is the second largest city of Fujian Province, and it is also known as Amoy. Founded during the Ming Dynasty, Xiamen was one of the "Treaty Ports" that China was forced to open after the first opium war. The city has become an international port and is a prosperous city after it was designated a special economic zone.
Xiamen city cover 1,565 square kilometer with a population of over 2.5 million. It was one of the earliest special economic zones in China. Xiamen port is one of China's top ten ports that has shipping routes connecting to over 60 ports in over 40 countries. The Xiamen Gaoqi International airport is one of the main air hubs of East China. The city also has a well developed railway system that connects to all parts of China.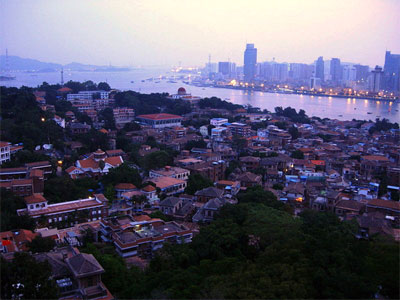 Xiamen Weather and Climate
Xiamen has a sub tropical and warm climate. Throughout most of the year, the weather is pleasant; however, typhoon season between July to September can cause heavy rainfall and storms. Xiamen has an average temprature of 21C with a annual low of 9C and high of 33C. The hottest months of the year are July and August. The fall temperature is mild, and winters remain relatively warm.
Xiamen is a famous tourist city of Fujian province boasting attractive seascape. Popular destinations include the Gulangyu Island, which is situated to the southwest of Xiamen city. The Gulangyu Island is also known as "Garden on the Sea because of its abundant trees and plants. The Gulangyu Island is also called the "Piano Island" by the locals. Every May, there is an International music festival and piano competition that is held.
Nanputuo Temple is another must see attraction of Xiamen City in Fujian Province. It is located by the Wulaofeng (5 old men) mountain. This Buddhisst temple was first built during the Tang Dynasty, and was rebuilt again during the Ming Dynasty, and then once more during the Qing Dynasty.