Baogong Memorial Hall is a famous scenic spot in Hefei. Its full name is "Baogong Xiaosu Memorial Hall (包公孝肃祠)". It lies on a mound around the center of the city. This hall is the main ancient building of Baohe Park. In the first year of Hongzhi, Ming Dynasty (1488), Songjian who was the government official in Luzhou constructed Baogong College here. So from that on, this place called "Baogong Memorial Hall". At the same time, this mound was titled with "fragrant flower mound".
Baogong Memorial Hall is constructed to commemorate Baozheng, who was a bachelor and government official in ancient time. This hall is decorated with white walls and black tiles. The main building is Baogong Pavilion. A big statue engraved with black stone is sitting in it. That is Baozheng. It shows his "impartial and incorruptible" integrity. At the west side decorated with curly pavilion; at the east side stands a dragon well pavilion, where there is an ancient well called "Honest Spring". On the roof of the pavilion carved some dragon paintings. In the day time, the shadow of dragon reflects in the bottom of the Honest Spring, waving with the well water as if a dragon is dancing. So the Honest Spring also called "Dragon Well".
At the end of Qing Dynasty, Liguowei, first-degree scholars, had written an article named "Well and Pavilion" according to a legend. The gate of hall faces south. The west gallery displays Baogong's spectrum, relic, motto, ink marks and annals material. Many special safflower lotus roots without wire when breaking are in full blossom in Bao River, which is around the Baogong Hall. There is an old saying, "Baogong is straightforward and selfless to people and even to objects".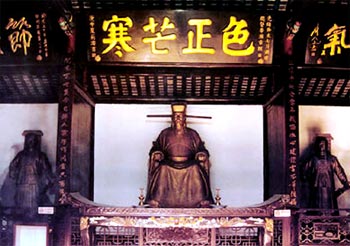 Baogong Memorial Hall occupies about one hectare. It is made of great hall, second hall, east and west hall, half a corridor and tablet pavilion. The style is simple and solemn. In the hall displays Baogong bronze statue, dragon, tiger and dog cooper guillotines and some cultural and historical relics. In addition, Baogong Hall owns some buildings, such as Main Hall, Huilan Hall, Qingxin Gallery, Zhidao Inn and East Inn. On both sides of the gate inscribed four eye-catching Chinese characters. Their meanings are honest and tenacious.
At the southwest of the Baogong Hall, a pavilion named "Liufang Pavilion". A well is in it. When Baogong was young, he had often studied there. So the local people established this pavilion to commemorate him. At the southeast corner is the "Honest Spring Pavilion". On the cliff of this pavilion carved a poem: a governor had ever drunk the spring water here and then he felt badly, especially his head, because he was a corrupt official; however, several first-degree scholars had also drunk the water here and they tasted well, because they were good people. Therefore, this well is called "Honest Spring". Now Hefei has produced "Honest Spring" beers to express their respect to Baogong.
There is a story about the Bao River which is around the Baogong Hall. When Emperor Renzong canonized Baogong as Longtuge bachelor (this is a Chinese old official) and bestowed half of Luzhou City on him, Baogong said, "As an official, my aim is not for the money, but for people, so I refuse your grants". After that, emperor Renzong decided to bestow the man-made river that is around Baogong's house on him. Baogong thought, "Unlike the land, the river can't divide and sell, and make people rich or poor," so he accepted this grant with his gratitude. Baogong treated every case strictly and seriously. He left a deep impression on people.