The Wolong Panda Reserve Research Center was set up by the Chinese government back in 1958 to save the declining panda population. The Panda Reserve is a 3 hour drive from Chengdu. It's a natural reserve covering over 200,000 hectares., and is the largest panda reserve in China. Wolong was added to UNESCO in 1980.
During the past decades since the development of the Wolong Panda Reserve, artificially bred baby panda survival rates has increased from 30% to 90% in 2003. Wolong Panda Reserve opened up wildlife observation areas, and attracts over 100,000 visitors each year. The Wolong Giant Panda Reserve is also home to other rare and endangered wild animals such as the golden monkey, gnu (Wildebeest), red panda, and more.
Giant Panda
The Giant Panda is usually classified in the bear family, and is native to central and southern China. The panda's main food is bamboo, but they also eat other foods such as fish, eggs, and honey. It is one of the most endangered species in the world with an estimated 1,600 pandas alive in the wild and about 160 live in captivity.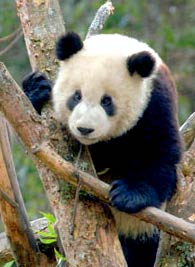 Adult pandas have a length of 1.6m to 1.8m, and weight between 176 to 275 pounds. Giant pandas have a large head with distinctive black patches around the eyes, ears, and the body.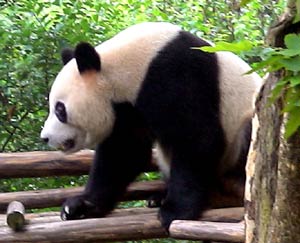 Giant pandas are found in mountainous regions that are dense with bamboo trees in central and southern regions such as Sichuan and Tibet. Although classified taxonomically as a carnivore, the giant panda's diet is mostly herbivorous. They eat almost entirely bamboo shoots and leafs. Wild pandas get a large portion of their water needs from bamboo trees whose contents are about 50% water, and the get the rest of their water intake from nearby rivers and water streams.
Pandas reproduce very slowly, and infant mortality is high - these are major reasons why it's such an endangered specie. The growth of panda cubs are slow as well, and they do not reach sexual maturity until they are 5 to 7 years old. Mating season for the pandas usually take place from march to may.