Chongqing is a famous historical and cultural city in China, with about 3,000 years' history and a glorious revolutionary tradition. In the late of Paleolithic period, mankind had lived in Chongqing area. In Shang and Zhou Dynasties, Ba people (Chongqing people) built Ba Country and established Chongqing as the capital. Several years later, Chongqing was annihilated by Qin Dynasty. At that time, China had been divided into 36 countries, Chongqing included.
Chongqing was originally called Jiangzhou, later known as Bajun, Chuzhou, Yuzhou and Gongzhou. In Northern and Southern Dynasties, Bajun was Chuzhou. In AD 581, emperor Suiwen of Sui Dynasty changed it into Yuzhou. From then on, Chongqing is named Yu for short. In AD 1189, Songguangzong was first canonized Gongwang (a kind of king) and then became an emperor.
In 1891, Chongqing became the earliest inland commercial harbor in China. In 1929, Chongqing was formally set up Chongqing city. From 1937 to 1946, Japan launched an aggressive war to China, so the National government was moved into Chongqing. Meanwhile, Chongqing became the capital of the Republic of China during the war time, the supreme headquarters of National Sino-Japanese War and Counter-Fascist and the center of politics, economy and culture. Therefore, Chongqing has been called "Three Capitals". After National government left, Chongqing still belonged to municipality. During the initial period of the establishment of new China, Chongqing was used as southwestern region's political, economic and cultural center. In 1992, Chongqing was agreed to become an open city. On 14th May, 1997, Chongqing formally became the fourth municipality in China and the only one in the western region.
Chongqing City Today
Chongqing City is called Yu for short. It is located in the east part of southwestern region and upper reaches of the Yangtze River. The total area occupies 83,000 square kilometers with 30.02 million people, including Han, Hui, Miao, Tu and other ethnic groups. Chongqing city is the central municipality that owns the largest area and population and the most extensive administrative area in China.
That Yangtze River goes across Chongqing city forming the famous Three Gorges of the Yangtze River. This city belongs to humid subtropical monsoon climate with an annual precipitation of 100 cm. Tourists here feel hot in summer and warm in winter. The mean annual temperature is about 18 centigrade. In winter, the temperature is between 6 and 8 centigrade; and in summer, it's between 27 and 38 centigrade. Due to the terrain, the climate is very hot in summer. Therefore, Chongqing belongs to one of the three "furnaces" in China (Chongqing, Wuhan and Nanjing). I suggest tourists should travel Chongqing in spring and winter.
In addition, Chongqing has many other names. Because there are so many mountains, Chongqing is also called the "mountain city". In the winter-spring season, there are many fogs, so it is also named "fog city".
Chongqing Culture and Food
Tikan - Chongqing people call the winding stairs Tikan. This veritable "mountain city" shows the tremendous human imagination and creativity. According to the city's terrain, many high-rise buildings are built, undulating with great height gap. Due to this, different sorts of stairs appear layer upon layer in every corner of Chongqing. Even in the Liberation Road which is in the center area is also difficult to see a flat land.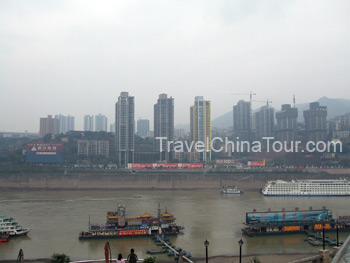 Hot Pot - When speaking of the hot pot, Chongqing people are always delighted. Chongqing hot pot is famous at home and abroad and it's an important part for people's life. Everywhere in Chongqing, there are large and small hot pot shops with a high supply of necessities, such as "four and one" (eating one dish of meat only four yuan and vegetable one yuan), "self-help" (eating whatever you like) and other kinds. No matter which season, which days and which hours, looking into any hot pot shops, you will see people gather together at the table drinking and eating happily. Especially in summer, more and more people like to eat it.
In addition, Chongqing is famous for "spicy food". You will never forget the good taste if you have chances to try, such as Gongbao Chicken, Yuxiang Meat, Chenpi Beef, Boiled Beef, Smoked Ribs, Bangbang Chicken, Sweet Pork, Crispy-skin Fish, Dry-braised Shark's Fin, Twice-cooked Pork, Hot-crisp and so on. They are delicious. I promise you have never tasted in western countries.
Beauty - Speaking of Chonqing, we have to mention beauty. Chongqing is known to have many beautifil girls. This fog city is humid perennially. It's the best cosmetics and moisturizing agents to protect the skins. In addition, with properly maintained and stylish fashion, walking in Chongqing, you will likely come across many beautiful girls. So it is hardly surprising that many models are native Chonqing girls. Now there is a very popular saying, "When you arrive in Chongqing, you will find yourself married too early."
There are usually many beauties on Liberation Road. The luxury shopping here is their paradise. Every weekend or in the evening, many people like to sit on this road to have a rest. Of course, you will naturally enjoy watching the coming and going beauties. Local people call this phenomenon as "Dawang (looking around)". Chongqing people even divide this road into several parts and name them "looking around 1", "looking around 2", "looking around 3" and so on. They use these titles to describe beauties' number and quality in various regions.
Bangbang - Because of the steep terrain, fewer people would like to choose cars to carry their heavy things. So everywhere in Chongqing, you can see many people help others carry heavy things on a Bangbang (stick). But they must be paid. People call them "Bangbang". They appear every where, such as the wharf, bus situation, outside of the shops and the streets. Their equipment is simply a stick and a piece of string.
Dialect - Chongqing is a boisterous city. Due to the large population, every corner is filled with noise. Unlike other big cities, Chongqing people rarely to speak Mandarin Chinese, but the local Sichuan dialect.