Zigong is a city about 1 hour drive away from Neijiang. The city is famous for salt production, and also for its dinosaur museum. The museum is located in Dashanpu in Zigong city - it is located at the actual site where dinosaur remains were discovered, covering an area of 25,000 square meters. There are over 40 locations within the city where dinosaur fossil were found, but the location where the museum is has the highest concentration of buried fossils.
The location of the dinosaur fossils were first discovered in 1972. The fossils are from the Meso-Jurassic period, about 160 million years ago. At this location, over 100 dinosaur remains have been excavated, and about 30 of them are complete dinosaur skeletons.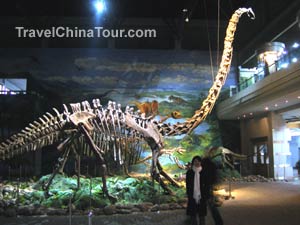 There are three parts of the exhibition. The first section provides some general knowledge about dinosaur fossils, evolution of dinosaurs, and geological periods. The second section is a large display hall with complete dinosaur fossils assembled (see photo above and below).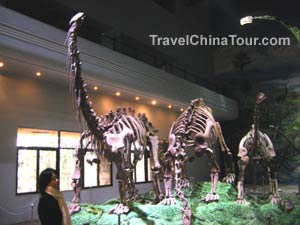 The third section is a section of land covering about 1000 square meters that shows dinosaur fossils in its original settings when the site was uncovered. The area is closed off with railings, but visitors can get a good view of the excavation site, and see dinosaur fossils that are still in the ground. (See photo below)