Wangjianglou Park's name is Yunvjin (the Fair-Lady Ferry). The park was built in memory of Xue Tao, a female Tang Dynasty poetess. At the beginning of the Ming Dynasty, a workshop was set up on the spot to produce the Xue Tao style writing paper. During the Qing Dynasty Li Yaodong, Chengdu governor arranged for construction workers to refurbish a well. It is said that the well was used by XueTao during her stay here.
Later local people named it XueTao Well. The workers also built several pavilions such as Yinshilou (吟诗楼, the Poem-Composing Pavilion ), Zhuojinlou (the Brocade-Washing Pavilion), Huanjianlou the Writing-Paper-Washing Pavilion). In 1886, Chongli Tower was built. Since the buildings were set up along Jinjiang River, it attracted visitors to ascend to the top of the buildings to view the river. Gradually, this group of buildings has become a symbol of the ancient culture and history of Chengdu.
Famous Towers in China
In China, there are nine famous towers. They include Huanghe Tower (黄鹤楼), which is located at Wuhan, Hubei Province, and it is called the First Tower on the Earth. Another one is Yueyang Tower (岳阳楼), which is a three storied watchtower at the west gate in Yueyang , Hunan Province. There's an old Chinese saying, "Dongting Lake surpasses all the water scenes in the world and Yueyang Tower deserves to be the most famous tower all over the world (洞庭天下水,岳阳天下楼)." Wangjiang Tower, also called Chongli Tower, is also one of the nine towers. It is a splendid and exquisite building feature with South China characteristics.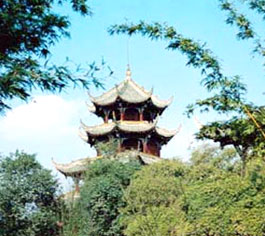 There is the main entrance gate building. It is modeled after the northern style imperial palace. The building gives the structure an imposing manner. The pillars are painted and the beams are carved; the tiles are glazed and the wall is a red color.
A horizontal inscribed board hangs on the top of the gate. It says, "Wangjianglou Gongyuan ( the River-Viewing Pavilion Park )".
The main entrance opens into the passageway. You will notice that the passageway is covered with a canopy of green bamboo. In summer, passersby feel cool under the shady green canopy. The passageway leads to the One-humped Camel Rockery in a small pool. Green bamboo, clean water, and pines add beauty to the rockery. The Qilixian Corridor (七里香长廊) spans twists and turns, which offers a clear view of a busy road across the river. Qilixian is a type of small white-colored flower, and its fragrance is said to spread as far as seven li (i.e.3.5km) away, so local people have named the flower the Seven-li Fragrance.