Yangshuo is a small town about 65km southeast of Guilin, and has a population of only 300,000. The Li Jiang river runs through Yangshuo. The town is surrounded by towering karst peaks, where there are green mountains and jade-like streams of water everywhere. The scenery here is simply amazing. A traveler of the Ming Dynasty named Xu Xiake (1586 - 1641) described Yangshuo as: "the land of green lotus and jade colored bamboo shoots".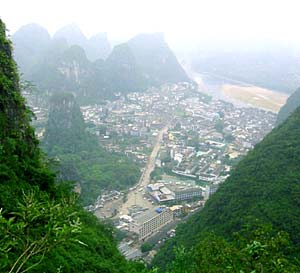 Yangshuo is easily accessible by bus or a boat cruise from nearby Guilin, and over the years, the town has become extremely popular amongst foreign backpackers as a place to relax and unwind. The town borders Li Jiang river on one side, and is surrounded with green mountains all around. There are two main roads that form the central part of town - the Chinese Street and West Street. Most of the foreign and tourist oriented business are located on the West Street in Yangshuo.
Guilin to Yangshuo Scenery
There are over 20 scenic areas around Yangshuo, and there are 4 major scenic areas. Of most interest to tourists are Green Lotus Peak, Yangshuo Park, and Mount Moon. There's a popular saying that "Guilin's scenery are the best under heaven, but Yangshuo's are even better".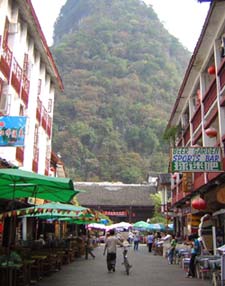 A major peak around Yangshuo town is named the Green Lotus Peak because it looks like a blossoming lotus flower. The Li River flows by on the east side of the mountain, and walking along the river bank, tourists can enjoy the beautiful scenery of mountains in the distance, and waters nearby.
Yangshuo Park is surrounded by mountains with a stream running through it. In the park there are several mountains including Duxiu Mountain, Xilang mountain, and Zhongling mountain.
The Moon Mountain peaks tower far into sky, reaching for the clouds. This mountain has a large cave of 11 meters in diameter, which looks like a full moon - hence the name "Moon Mountain".